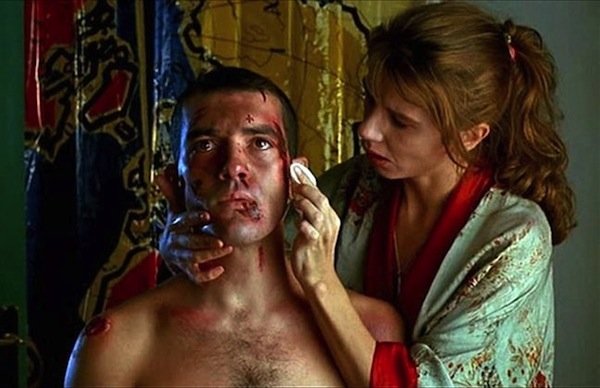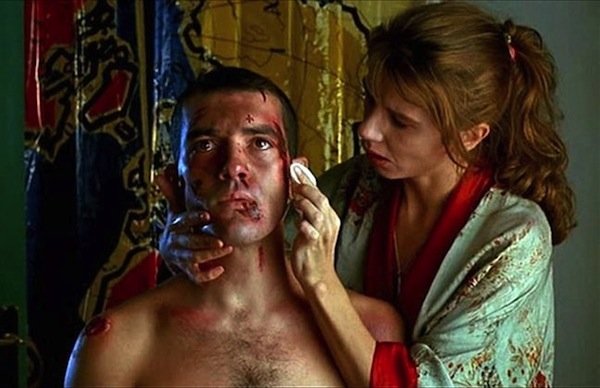 Well, like it or not boys and girls, summer is officially over (although with global warming who knows what we can expect weather-wise) so let's try to go out on a sunny high note with some fun, funky selections for some frivolous summery viewing before the fleeting air turns chilly to our embrace.  And with that happy thought, here are this week's mostly frothy selections.
What is this thing we call Art you may or may not have asked at some point in your life? And who are the real Artists who sacrifice their lives on this Altar of Love? The absorbing 2011 documentary, directed by Street Art legend/provocateur Banksy, "Exit Through The Gift Shop", cheerfully, engagingly examines these questions and so much more as the viewer takes a journey to and through the birth of the Street Art movement through the eyes of a desperately charming aficionado…who also happens to be taking his own personal journey towards a rather interesting relationship with the art scene himself. Director Banksy delivers the goods with wry humor and a clear-headed vision that is perhaps a bit more unsettling than Artist Banksy is chagrined to admit.  Whatever opinion, or lack thereof, you hold regarding the current art scene this film is a jauntily revealing look into the mirror mirrors of our collective, creative dreams and a funhouse ride all the way!
We did say that this week was mostly frothy but here's a bit of bite to go with your light.  The overlooked Oren Moverman directed 2011, "Rampart", with Woody Harrelson as a dangerously  overconfident LAPD street cop who is spiraling out of control and bringing everyone down with him. Featuring Anne Heche, Robin Wright, Ben Foster, Ice Cube and Ned Beatty as the strangers who veer in and out of his arrogant trip to oblivion, this slow simmering character study is taut and memorable with the entire cast wielding the gripping script, co-written by Moverman and hard-boiled LA scribe James Elroy, like a straight razor.
And for a cinematic experience with one of the most straightforward and primally frightening premises you will ever witness, this week we have 2004's, "Open Water".  Written and directed by Chris Kentis,
this bracingly bare bones story concerns a not-so-happily married, scuba-diving couple who are unwittingly abandoned by their dive boat, stranded and left deserted and drifting in a vast ocean with no way home.  And we all know the ocean isn't empty but they are, indeed, very, very alone…
TV Show of The Week–  Fox's brand new animation series, the hilariously subversive, "Axe Cop", is here for your pleasure and the rapid fire 10 minute episodes of this superbly realized animated madness is exactly the type of palate cleanser you need before you dive into your televised entrée.  Enjoy!
And for your end-of-summer entrée we're recomending 1995's tasty take on the late, great Elmore Leonard's sizzlingly sharp novel, "Get Shorty". Directed by Barry Sonnenfeld and starring John Travolta as wiseguy film buff Chili Palmer, the fantastic cast includes Gene Hackman as a smug hack director, Rene Russo as a savvy B-Movie actress, Delroy Lindo as a crime boss itching to break into show business, the recently departed Dennis Farina as a screamingly hilarious thug mobster on-the-make and Danny DeVito as the blissfully ignorant superstar Actor of the title. This is 105 minutes of wicked grins, wisecracks, slick twists, goofy, giggly turns and everyone involved seems to be having the time of their life bringing Leonard's charming rogues to effervescent life. A grand slam home run from Sonnenfeld and an always re-watchable, instant classic delight!
And speaking of home runs why not take another look at Director Pedro Almodovar's 1990 passion play about kidnapped love, "Tie Me Up! Tie Me Down!".  Almodovar veterans Antonio Banderas and Victoria Abril are the main players in this romp but, like most Almodovar stories, there is a lot of everything going on here! And yes, we like it hot.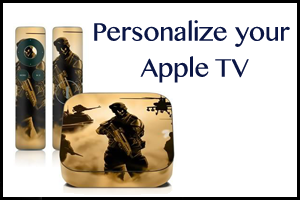 This week 2013's Michael Bay directed comedy (?), "Pain & Gain", is available for download.  Mark Wahlberg and Dwayne (the Rock) Johnson star as misguided muscleheads who believe kidnapping, extortion and murder are the keys to their American dream of money, money and more money. Yes, Bay eschews the explosions for plotting and laughs and we've heard that there's more hits then misses so we think it's worth a shot. And we did say The Rock, didn't we?
Youngsters who likely don't remember that 80's touchstone "The Breakfast Club" may enjoy the update, 2012's, "The Perks of Being a Wallflower", with Hermione Granger…oops…sorry, Emma Watson and co-star Logan Lerman as the angst-ridden protagonists familiar to readers of Stephen Chbosky's super popular YA novel of the same name. Is the book better than the film? We think you ought to be the judge on this one.
And, what-the-hell, why not make it an double feature for all you hormonally challenged pre-teens and an I-double-dog-dare-you test for the post pubescent with that 2012 finale so many young hearts were so breathlessly waiting for, "The Twilight Saga: Breaking Dawn-Part 2".  Featuring K-Stew (our top secret crush so don't tell anybody) and R-Pat as everyone's favorite sparkly immortals, just give in and surrender to the cheesiness of it all. For those of us who are lucky enough to be street legal why not make it into a special viewing Twilight Drinking Game– Every time K-Stew bites her lip…SHOTS FOR EVERYONE! You may not make it to the finish but you'll enjoy the film so much more!
That's all for this week so enjoy the last of the long days and we'll be there when the sun go down!
Be sure to follow Apple TV Hacks on Facebook, Twitter and Google+.