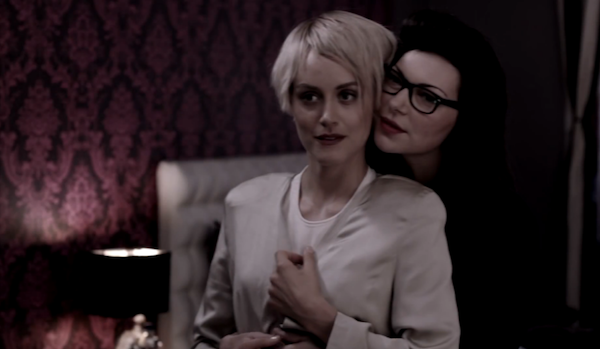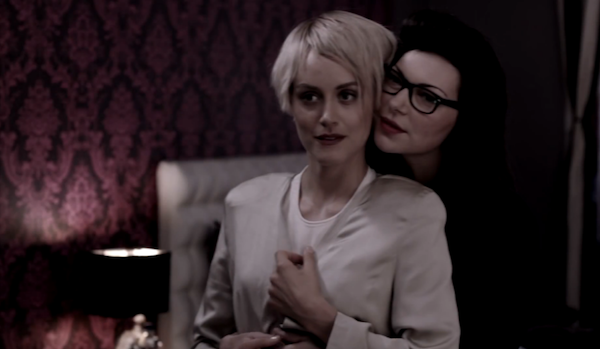 July continues to heat up as we head into the official dog days of summer so, as always, we did our level best to locate the coolest viewing out there to kick back to, settle in with and then just let it all wash over us like an icy waterfall of cinematic refreshment.  This week we say click this way and a small screen quenching cool will be all yours.
And one of the coolest new shows on TV is the Netflix Original, "Orange is the New Black", a comedy/drama starring Taylor Schilling as the good-girl heroine trapped in some very bad circumstances and dealing with her new life as a convicted drug dealer and Guest of the State. With Jason Biggs and Laura Prepon (yes, she's still working) this 13 episode, 50 minute show has been getting lots of praise and already has a dedicated following waiting for the season to come.  Bad Girls in Cages!
I guess it's just TV week because we're going to suggest that you also check another Netflix Original, and now Emmy Award Winning Series, "House of Cards", starring Kevin Spacey as a high level, political wheeler-dealer sliding snakily through the Capitol Hill grass. And who plays "snaky" better than Spacey?
Feeling tragic, romantic and fatally attracted? Then click on 2010's "Blue Valentine" with Ryan Gosling and Michelle Williams as a heart-shredding pair of doomed lovers on the road to ruin and nowhere.  It's the feel-bad romance of the Year!
Alternative Pick of the Week– Netflix is streaming the latest edition of Director Michael Apted's brilliant, ongoing 49-year "7 Up" project this week, "56 UP", and if you haven't yet experienced this riveting documentary series then you're in for a moving evening of very real life drama.  Be Warned– If you tune in then you will be transfixed by the compelling hopes, dreams, realities and engaging humanity of all the subjects involved which will lead directly to hours and hours of observing their slow climb to adulthood as they grow through their separate lives in 7 year stages of hope, heartbreak, joy, acceptance and triumph in one of the most compelling docs in cinematic history.
Our classic pick this week is 1964's timeless, "Endless Summer", the holiday documentary to end them all!  You don't have to be in love with surfing to enjoy this global search for the perfect wave (Spoiler Alert– They find it) because by the end of the film you will be.  And Oh!  To be young again…
In a creepy haunted house type of mood?  Well, 2001's "The Others" delivers all the Bads that you're looking for as Nicole Kidman tries to figure out what those things are that are going bump in the night…
We think after your horrorgasm it may be time for some laughs and few contemporary comics can deliver the gut-punching hilarity like everybody's go-to comic, Louis CK.  Hulu Plus has the native Bostonian's knockout return, 2008's "Louis CK- Chewed Up", available for your guilty pleasure.  If you're over the age of 21 (no, wait…make that 31) then it just doesn't get any funnier.
Speaking of funny, why not check the original, Ricky Gervais created, "The Office", series (15-30 minute episodes), available to click at your leisure.  It's summertime and anyway, it's always nice to laugh at people at work…especially when you're not there!
With the sequel busting out all over why not review the original 2010, "Red", with Bruce Willis, Morgan Freeman, John Malkovich and the radiant Helen Mirren as the coolest bunch of Retired & Extremely Dangerous seniors on the planet out to get a little payback.  A fun ride all the way that won't require any complicated thinking during the trip!
And there's more fun on the fly with Director Judd Apatow's 2012, "This is 40 (Unrated)" available to download this week.  Paul Rudd and Leslie Mann play the not-so-happily middle-aged couple figuring it all out with the smokin' Megan Fox along to add spice to their uncomfortable mid-life crisis.  And yes, in this case, "unrated" means more, better and funnier!
And for all you Fanboys and girls out there…perhaps it's finally time to revisit Director Zack Snyder's earnest but entirely unsuccessful 2009 effort, "Watchmen" again.  This cinematic take on one of the all-time most beloved graphic novels was always going to be a high stakes gamble and sure, Snyder's version was a bust out payoff all the way but we think a gentler reevaluation of the film may be in order now that we've had some time to let the dust settle.  Just sayin'…think about it.
Free App of the Week– "Tumblr" by Tumblr.  Social media never looked so good!
That's all for this week so save us a seat until next time!