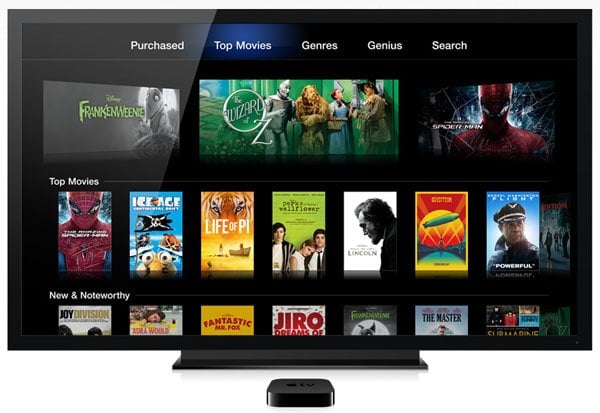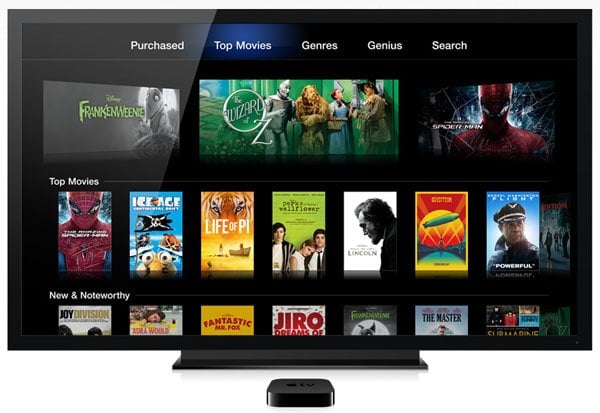 Welcome to SummerFest 2013 fellow Apple TV fanatics!  And because the steamy season is upon us and you've got lots of cool things to do we think it's time we jumped right into the Hot Picks. Starting with our favorite movie streaming monster:
And let's dive into the action with a sweaty crime/cop drama, 2012's "End of Watch". Starring Jake Gylenhall and Michael Pena this David Ayer directed LA cop thriller features docu-style, handheld camera work that drops you right into the middle of this sweltering street action then puts the hammer down on this breathless ride of a movie. If you like hardcore cop stories, you'll love this one!
Now how about a few laughs to smooth out all that adrenaline?  Available this week is Sasha Baron Cohen's 2012 poke at geo-politics, "The Dictator". If you dig SBC's brand of subversive humor injected into the very real world then give this one a click and enjoy all your uncomfortably close-to-the-bone chuckles. We're pretty sure it's a satire…
And if you want to really wallow in that summertime, free-for-all, party mode check out 2001's raucous, raunchfest, "Wet Hot American Summer".  Starring a young cast of then mostly unknowns like Paul Rudd, David Hyde Pierce, Janeane Garafolo, Amy Poelher, Bradley Cooper, Christopher Meloni and many more then fresh faces this bare budget, big laughs comedy rekindles all those cherished summer camp memories like sex, drugs, booze and completely inappropriate behavior that you've spent a lifetime forgetting. Laugh 'till it hurts then roll up another one and keep laughing.
TV Pick of the Week– Animation fans may want to click over to the brand new Disney Series, "Tron" and see what you think. The 30 minute episodes have great reviews already and if you're into Sci-Fi or animated features then this one may be the hook you've been looking for.
Summertime does mean beautiful women on the beach and women just don't get any more beautiful (not to mention the beaches of St. Tropez) than that Goddess of Love known as Brigitte Bardot. Yes, we know that Director Roger Vadim made "And God Created Woman" in 1956 but trust us…this is Euro-50's and it is HOT IN HERE! Definitely watch this one with your best GF/BF because this feminist tale of sexual empowerment will blow both your socks off along with the rest of your clothing. A super sexy classic featuring one of film's all-time greatest femmes so ladies and especially gentlemen…you are in for a sweet treat!
If you've got a bitter taste for serious, emotional drama then check Director Gregg Araki's overlooked 2005 examination of childhood trauma/abuse and its heartbreaking effects, "Mysterious Skin". Not for the faint of heart or anyone under the age of consent, this harrowing depiction of the lingering toll that abuse causes features a powerful lead performance from Joseph Gordon Levitt as the hero/victim and Brady Corbet as a boyhood friend desperately seeking answers like everyone else.  Incendiary, controversial and well worth your time.
TV Pick of the Week– The All New Season of Chef Gordon Ramsay's "Master Chef" is finally here so bust out those knives and forks and dig in! All new contestants in the same old contest with the same discerning judges, MC just never gets old. Bring your appetites!
Summer's here and the time is right for…singing in the streets?  Yes it is and this week 2012's sleeper hit "Pitch Perfect" is available to get your funnybone tuned and your freak on. Featuring the adorable Anna Kendrick along with Brittany Snow, Anna Camp and a scene-stealing Rebel Wilson, this off-beat laugh fest will get your summer party started off right.
And if you want your evening to take some wicked twists and turns then check Director Steven Soderburgh's final (he says) cinematic effort, 2013's "Side Effects".  A mind bender of a mystery that will take you down the rabbit hole this one stars Rooney Mara, Channing Tatum and an almost incognito Jude Law as a psychiatrist who may not be all he seems to be. Catch Soderburgh while you can.
One for Kids of All Ages– Disney's 2012 hit "Wreck it Ralph" is available and we've got word that you big boys and girls may enjoy this one almost as much as the rugrats do. Come for the animation, stay for the laughs!
Free App of the Week– "Emoji Pop" by Gamoji Limited. Because you know that you can never have enough emoticons you text-crazy freaks. And if it's free, it's for thee!
Now just remember to use lots of sunscreen, drink lots of water, scrape those BBQ grills before you fire them up and then save us a cold beer.  See you next week!