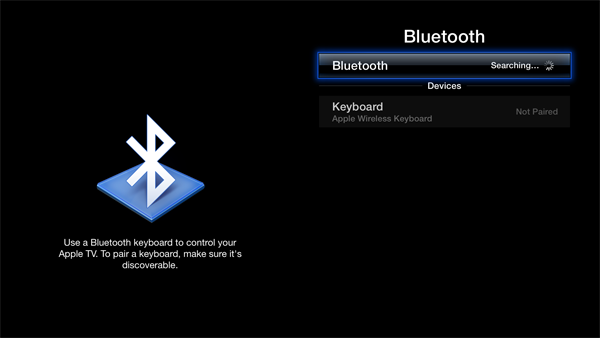 It was not long ago that we shared the news regarding Apple officially activating its Bluetooth hardware, via the 5.2 update, on their Apple TV 2 and Apple TV 3 devices. Though it seems that support is limited to Bluetooth keyboards, not Bluetooth remotes, only time will tell if Apple has a line of new peripherals on the way for us all. As exciting as the news is, having Bluetooth capabilities does no good if users are unsure/unable to utilize these features.
We also want to remind those of you that own an Apple TV 1, the silver box, that this guide will not pertain to your device as you have no Bluetooth hardware enabled by default. If you own an Apple TV 1, and would like Bluetooth support, you will need to look into other LINUX-based options (see our guide on installing openELEC) paired with Bluetooth dongles.
REQUIREMENTS
1. Bluetooth keyboard
2. Apple TV remote (hardware or software)
3. Apple TV (2nd or 3rd generation) updated to the latest 5.2 firmware
4. A desire for your media center to have additional awesomeness
LIMITATIONS (according to Apple)
1. Bluetooth support on Apple TV is for keyboards only. Headsets, speakers, and other devices are not supported.
2. If you are having difficultly connecting or using a third-party Bluetooth keyboard, contact the manufacturer to verify that it is compatible with Apple products and Apple TV.
3. The original Apple Wireless Keyboard (2003), that features a white case and uses four AA batteries, is not compatible.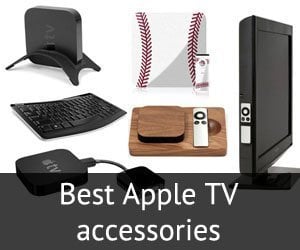 PAIRING
The first thing we need to do, as is the case when using any Bluetooth devices, is "pair" our hardware. Pairing is simply the process of connecting the two devices to each other, therein allowing them to communicate with each other.
1) From your main menu, navigate to the Settings -> General -> Bluetooth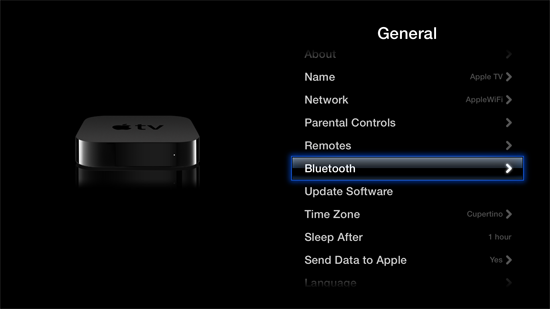 3) At this point, let's go ahead and turn on the keyboard and set it in "pairing mode"
5) You will immediately see the word "Bluetooth" at the top of your screen with the word "Searching" next to it.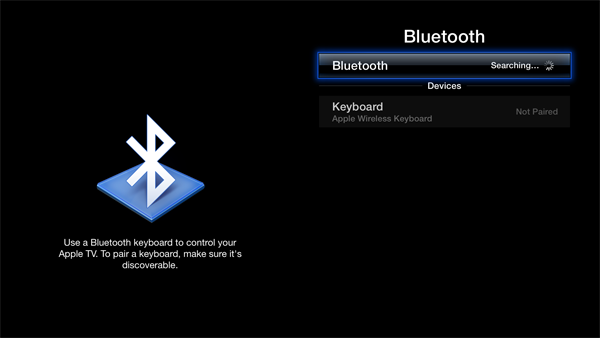 6) In a matter of seconds you should see your Bluetooth keyboard's name pop up on your Apple TV.
7) Using the Apple TV remote, click on the name that represents your Bluetooth keyboard.
8) You are now met with a sequence of 4 numbers: type these IN ORDER on your keyboard.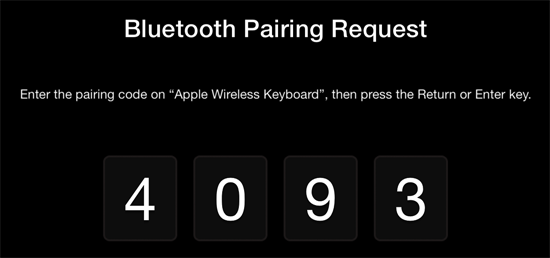 9) Congratulations, your keyboard is now paired with your Apple TV.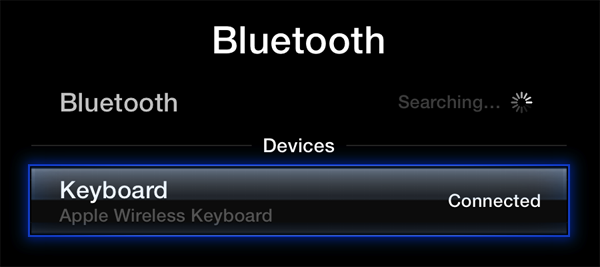 HOW TO USE
Now that your keyboard is paired with your Apple TV, everything can be controlled by either the keyboard or your Apple TV remote. So, let's assume that you now want to put away your remote and control your system via the keyboard – here are the basic keys that you would be looking for:
| | |
| --- | --- |
| On the KEYBOARD | On the REMOTE |
| Enter | Select |
| Esc | Back |
| Arrows (up, down, right left) | Navigation Buttons |
You can use your keyboard to:
Enter text and other information (search, email addresses, passwords, and so on)
Navigate Apple TV menus using the arrow, Return, and Escape keys
Navigate recently updated aTV Flash (black)
Jump to an item, title, or name on the screen by typing the first few letters (for example, when viewing your music collection, you can type a song title or artist name to jump to it in the list)
Use media controls when playing music and video to play or pause content and select previous or next.
Volume, brightness, and other controls are not available for Apple TV. Apple TV uses the U.S. English keyboard layout regardless of the keyboard's hardware layout.
DISCONNECTING
If you want to stop using your keyboard or disconnect it from the Apple TV:
Select Settings -> General -> Bluetooth
Select your keyboard and then select "Forget this device"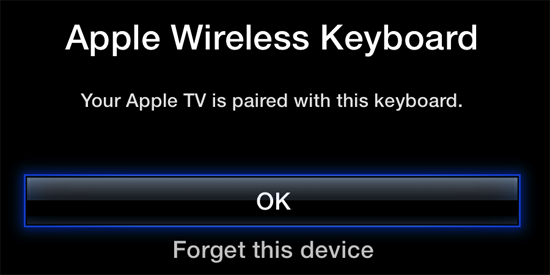 (This article is also available in Spanish / Este artículo también está disponible en español)