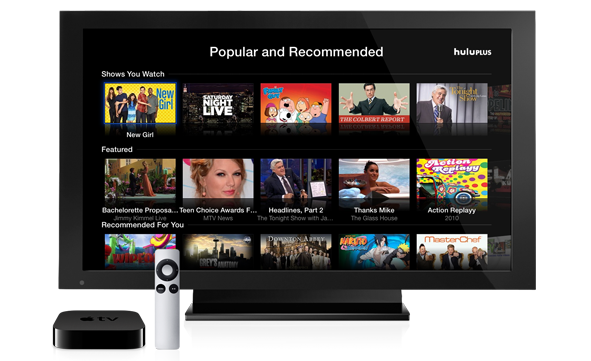 Until now only available on jailbroken devices, Hulu Plus official app has finally arrived on Apple TV. Hulu icon now shows up on the Apple TV home screen (no update needed, just reboot your device) giving you instant access to all the shows, series and movies available on Hulu Plus. The monthly subscription is $7.99 and there is a one week free trial for new users. If you are new to the service you can sign-up through Apple TV using an Apple ID.
How to sign up
If you are a Hulu Plus subscriber, simply enter your username and password to start streaming last night's episode of your favoirite show.
If you do not have a Hulu Plus account, you can easily sign-up two ways:
1. Go to www.huluplus.com/appletv and register online. Launch Hulu Plus on your Apple TV, log in with your new credentials and start streaming.
2. Create a Hulu Plus account directly through Apple TV by using your existing iTunes account and following the sign up instructions on the screen. If you sign up for Hulu Plus through Apple TV, you will be emailed instructions on how to complete your registration so you can use Hulu Plus on all other supported devices. After your free 1-week trial ends, your iTunes Account will be charged $7.99 per month as a recurring transaction.
Check out this video to find out how to set up Hulu Plus on your Apple TV:
Hulu Plus is an online video subscription that streams current and classic TV programming on demand from hundreds of content partners, including top broadcast networks ABC, NBC, FOX, The CW and Univision. For many popular shows, Hulu Plus offers every episode of the current season. Hulu Plus subscribers also have access to back seasons and full runs of some of TV's greatest shows, including many that were not available online before, in HD whenever possible.