Step 6: iTunes will confirm the restore when complete – your Apple TV is now jailbroken. Please proceed to the 'tethered boot' section below.
Using Seas0nPass for a 'tethered boot'
After jailbreaking your atv on iOS 5.1 with Seas0nPass your device requires a tethered boot. This means it must be connected to a computer for a brief moment during startup.
Note: The Apple TV MUST be disconnected from the computer (for at least a brief moment) after restoring in iTunes for the tethered boot process below to work properly.
Step 1: Open Seas0nPass and select the 'Boot Tethered' option.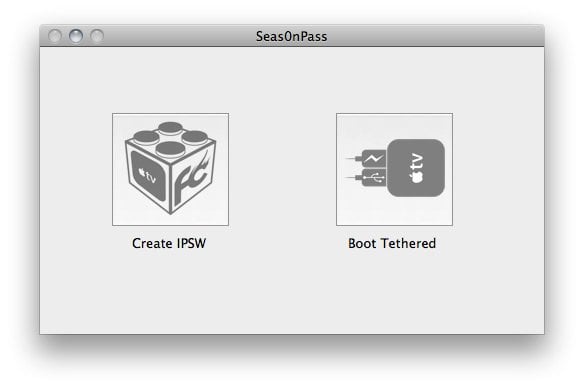 Step 2: When prompted, connect the Apple TV to your computer via USB. Wait for the rapid flashing light then connect the power. Once both are connected hold both the 'MENU' and 'PLAY/PAUSE' buttons for 7 seven seconds.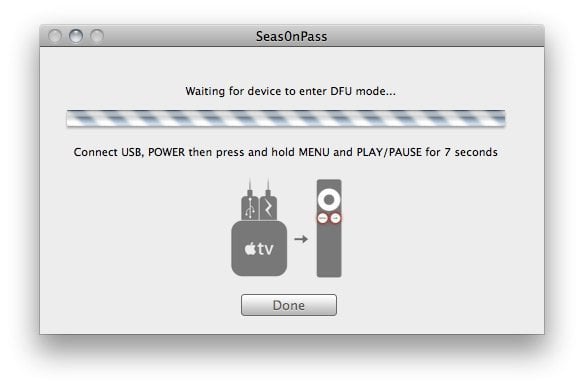 Step 3: Seas0n Pass will complete the tethered boot automatically. Once complete, remove the USB cable and connect the HDMI cable.
Note: Timing is key. Once the you receive the success message shown below, the USB cable should be removed and HDMI cable connected before the light on the front of the AppleTV stops flashing. (Don't worry there is ample to do this, so you don't need Superman speed).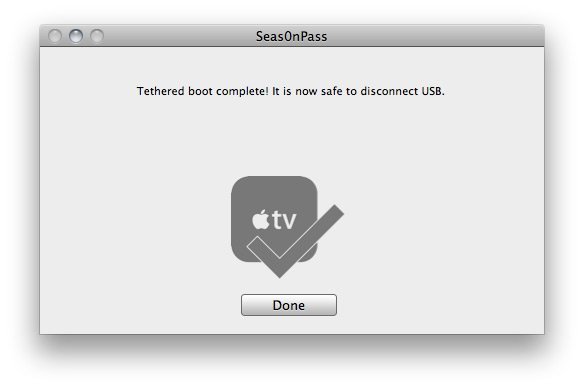 Done!
You may also want to read:
Seas0nPass jailbreak for Apple TV 2 5.0 (iOS 5.1) released
nitoTV: Apple TV 3 jailbreak will be an uphill battle
Yet Another Patent Hints at Apple Preparing a Standalone HDTV
XBMC 11.0 Eden for Apple TV – Review