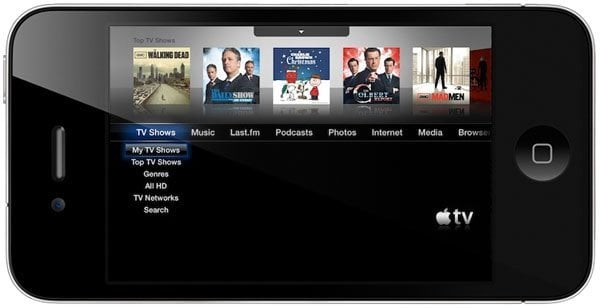 Old Apple TV is not dead! Remote HD has just released a new plugin for the old Apple TV that adds the missing AirPlay functionality. AirPlay can now be added to any first generation Apple TV by installing the Remote HD plugin and activating it using Remote HD iOS application. Once the plugin is activated, any AirPlay enabled application can be used to stream video and photos to the Apple TV.
According to the developer, all existing Remote HD customers get this functionality for free. AirPlay audio streaming will be added soon.
Remote HD's AirPlay supports:
– Video streaming from YouTube iOS app
– Movies and Podcasts from iPod iOS app
– Photo streaming from Photos iOS app
– Video streaming from iTunes 10.1.
Installing/Upgrading Remote HD plugin manually
Remote HD's Apple TV plugin must be installed and running on the Apple TV before you can control it with Remote HD. This part explains how to unlock your Apple TV using free opensource tools and install/upgrade Remote HD plugin on it:
Unlock your Apple TV using opensource atvusb-creator.
Step by step instructions can be found here and here.
Connect to your AppleTV using your preferred SSH client:
Host: appletv.local
Username: frontrow
Password: frontrow
Recommended SSH clients are:
OS X: Use the buit-in SSH command line client using Terminal.app
Windows: Putty Download putty.exe from here
Here's an example of how to connect to the Apple TV using Terminal.app on OS X:
ssh frontrow@appletv.local
Password: frontrow
Once connected, run these commands one by one.
These commands will download, uncompress, install/upgrade Remote HD plugin and restart the Apple TV interface.
scp ssh.remotehd.com:RemoteHelper.tar RemoteHelper.tar
tar xvf RemoteHelper.tar
./install-RemoteHelper
"frontrow" without the quotes is the default password.
If prompted with a security prompt to confirm connecting, type in yes.
Thats it, you're done! Now grab your device and have Remote HD scan for available connections. Your Apple TV should show up in the list of available WiFi-connections – just tap to connect!
The default password is empty.
Installing Remote HD plugin using aTV Flash
Looking for an easier install option?
Use aTV Flash to unlock your AppleTV.
Then enable Remote HD from Maintenance > Install Extras.
Get the Remote HD from the App Store ($3,99 with 50% discount).
GIVEAWAY
We have 5 licenses of Remote HD to give away! Follow @appletvhacks, RT and join us on Facebook for your chance to win. There will be one winner each of the next 5 days.
You may also want to read:
AirFlick Streams Non-iTunes Data to Apple TV 2 (video)
How-To: Jailbreak Apple TV 2G on iOS 4.2.1 with PwnageTool
AirVideoEnabler Allows AirPlay Video Streaming from Any App