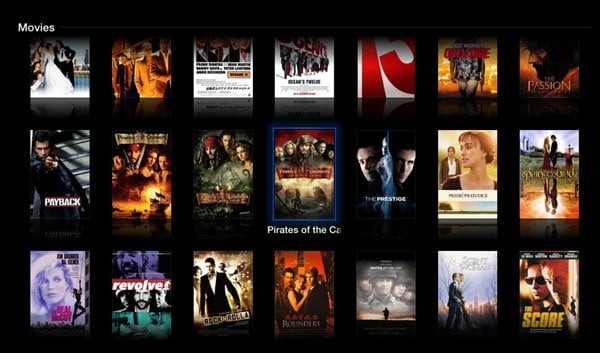 Firecore has finally released aTV Flash (black) Release Candidate 1 for the Apple TV 2. RC1 adds a number of new features including a brand new 'grid view' browsing mode (allows you to browse through media by simply viewing a grid of posters, instead of a list), huge subtitle related improvements, support for Apple TV 4.4 (iOS 5), and other performance and playback related improvements.
Here is the complete list of new features and improvements:
Added grid view and pre-playback view options
Added bulk metadata fetching with growl-like status
Added fetched names in list view
Added hardware decoding for .m2ts files
Added support for embedded subtitles (MKV, M4V, etc…)
Added support for ISO (DVD) files
Added TV Show metadata fetching
Added metadata correction for Movies and TV Shows
Added movie title in Top Shelf (instead of filename)
Added DSI ping for better operation with AFP shares
Added folder tagging
Added metadata view indicator
Added support for metadata overriding using xml files
Added DVD menu buffering
Added support for subtitles with invalid timestamps
Added support for AppleTV 4.4 (iOS 5)
Added subtitle 'Weight' setting
Added option to show/hide local files
Improved data buffering and playback performance
Improved XSUB subtitle support
Improved network error handling
Improved filename parsing for metadata fetching
Improved NAS drives support and increased connection timeout
Improved video loading process
Improved DVD menu handling
Improved playback position detection
Improved memory footprint
Improved SMB share handling
Resolved DVD subtitle issues
Resolved Voiceover related issues
Resolved audio synchronization issues
Resolved problems when streaming from an AirPort Extreme
Resolved AFP related issue when resuming after a long pause
Resolved issues that caused the first subtitle section to be skipped
Resolved performance and crash related issues for certain DVD files
Resolved audio playback issues when the connection to Last.fm fails
Resolved potential issues in shares handling and filename processing
Resolved AFP related crashes
Resolved .dvdmedia extensions and folder images not hiding
Resolved floating crash during metadata fetching
Resolved various cloud backup issues
Many other miscellaneous fixes
RC1 is available through the Downloads tab in your account. If you're already running aTV Flash (black) on your Apple TV all the new features can be installed through the Maintenance –> Manage Extras menu.
Note: Installing RC1 requires Apple TV 4.2 or later.

You may also want to read:
How to Jailbreak Apple TV 2 on iOS 5 (Apple TV 4.4) Using Seas0nPass – Tethered
Media Player 0.9.1 for Apple TV 2 Released
aTV Flash (black) Beta6 for Apple TV 2 Now Available