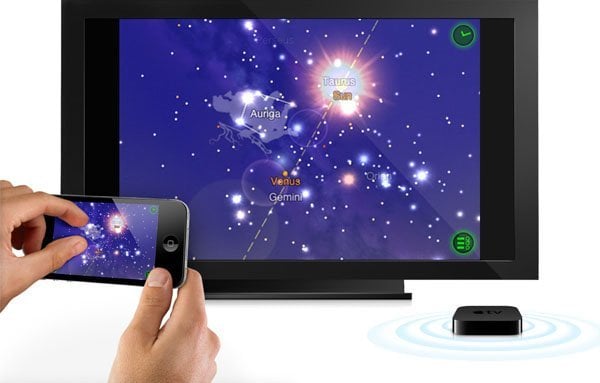 First announced for iPad 2 back in June,  AirPlay mirroring is now coming to iPhone 4S. This feature will let you see on your TV (with the Apple TV 2 plugged in) exactly what's on your new iPhone. Although iOS 4 natively supports AirPlay for photos, videos and music, and there are iPhone apps that let you AirPlay pretty everything – web pages (Web Browser for Apple TV), live view of your iPhone's camera (Camera for Apple TV), maps, text editor (TVOut Genie!) – one thing still missing are games. Well, it will finally change with the arrival of the iPhone 4S and, as this video shows, we can expect it will work as smooth as we are hoping for.
According to Apple, AirPlay mirroring will be available only for iPhone 4S and iPad 2, the only Apple devices powered by A5 chip, as the other devices are simply not powerful enough to handle the mirroring. Hopefully, we'll soon be seeing an iOS 5 apps with AirPlay feature built-in, which would let us to AirPlay the app without the necessity of mirroring your iPhone.
Short after the iOS 5 has been unveiled, Firemint announced that its Real Racing 2 HD will be the "first title to support full screen wireless gaming over AirPlay". According to the developer, this won't be just mirroring – the players will be able to play Real Racing 2 HD on their big screens without a cable, while their iPad 2 displays racing telemetry in real-time.
And if you don't have the second generation Apple TV, you can also plug in the HDMI cable and mirror your device over the wire as well.
You may also want to read:
Photo Stream and AirPlay Mirroring for iPad 2 Coming to Apple TV 2
AirPlay-Enabled Apps: Web Browser, Camera and Videos for Apple TV, TVOut Genie! (review)
Real Racing 2 HD First to Support Wireless Gaming over AirPlay on Apple TV 2