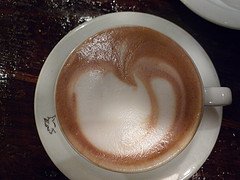 Welcome to our first instance of Apple TV News from the Web. In this weekly column we will share Apple and Apple TV related news we have found all around the networks. From Apple gossip to Apple news. Anything Apple-ish, with a big focus on our beloved black and silver boxes.
We are open for submissions: if you find anything related to Apple TV and you think it may fit here, send us a tweet or a Facebook comment and we'll post it the coming week.
---
Edition 1:
The Apple TV Set
No more 0.99$ TV rentals for the Apple TV
Steve Jobs' resignation
Miscellanea from the net
Probably the biggest Apple TV news of last week and the more important for us. Looks like Apple will strike the market in 2012 with a full Apple TV Set. Speculators in the media are not sure about the sizes. Some sources [1] point out that the most likely sizes are 17 or 19 inches touch-screens, iOS enabled. Think of a giant iPad for your dorm or kitchen. Other sources [2] suggest a NetFlix rival, delivering content to televisions, although this same source suggest that dropping prices in high end LCD screens will mean Apple can enter the battle. Others [3] suggest 2013 as the likely time for the "iTV", even after newly appointed Apple CEO Tim Cook said "we are not entering the TV market"
[1] VentureBeat: Apple is working on a television for 2012, sources say, Dylan Tweney
[2] CultOfMac: Apple Is Working On A Subscription TV Service' To Take On Netflix, Ed Sutherland
[3] MacRumors: Multiple Sources Suggest Apple Working on Television for as Early as 2012, Arnold Kim
No more 0.99$ TV rentals for the Apple TV
Yes, seriously. But I bet you found already. Apple has dropped the ability to buy cheap chapters for rental. Removed from iOS, removed from Apple's page and removed from iTunes. Only lasted for a year, but it was doomed to fail. TV producers were afraid it was too cheap, and they have finally cut the plug. The official reason stated here [1] is that Apple TV users prefer to buy than to rent. The first site to notice [2] made an exhaustive search to show that indeed, all sources were clean. Apple spokesman Tom Neumayr told in [3] exactly that, as official Apple statement. No more cheap rentals. Go figure.
[1] The New York Times: Apple Ends Its TV Episode Rental Service, Brian Stelter
[2] AppleInsider: Apple abandons 99-cent TV show rentals for Apple TV, Neil Hughes
[3] All Things Digital: Apple Pulls the Plug on TV Rentals, Peter Kafka
Steve Jobs' resignation
Of course, we could not miss the biggest news since the sandwich bread. The big boss empties the seat [1], leaving now-CEO Tim Cook to keep Apple as the biggest company in the world [2]. This has resulted in all kinds of web reactions:
It has also resulted in sharing stories about how Steve has been as a CEO, like how he was given the domain and trademark for App Store [3] or how he asked a Google engineer to improve the on iPhone rendering of a shade of orange for Google's logo… on Sunday morning [4].
[1] Reuters: Steve Jobs resigns from Apple, Cook becomes CEO, Poornima Gupta
[2] The Guardian: Apple pips Exxon as world's biggest company, Dominic Rushe
[3] iDownloadBlog: Apple Was Given the App Store Trademark and URL, Cody
[4] Google+ status: Icon Ambulance, Vic Gundotra
Miscellanea from the net
Could be the Apple TV the next gaming console? Luis Borba wonders in this post if Apple could make the aTV a gaming console, using iPads and/or iPhones or iPod Touch as controllers. It's an interesting idea, although we agree with what nitoTV has commented on twitter, using iDevices as control systems is not natural, since they don't have any resistance to touch.
Apple: The next chapter: Dan Frommer wonders how Apple will now move ahead. What directions will they move, and how Tim Cook will manage everything. After all, he has been more or less in charge since February.
Big IceFilms Add-On Update: the servers at IceFilms somehow stopped working for a lot of people, luckily the guys at hd420p posted a tutorial to solve it.