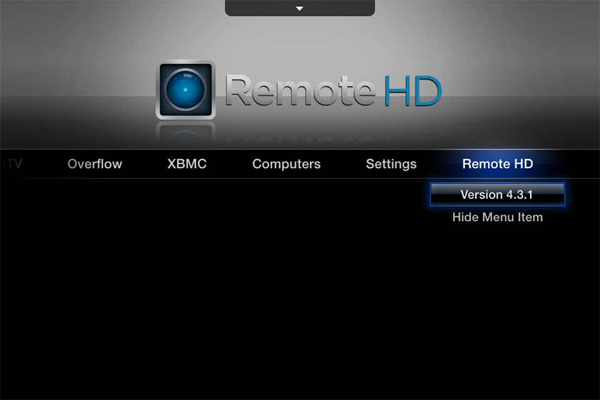 Remote HD, an iPad/iPhone/iPod Touch application and Apple TV plugin that gives you access to your Mac, PC and Apple TV (the same that brought AirPlay to the first generation atv), has just been updated to support the new Apple TV. The feature you're gonna like the most is RemoteView: it brings atv's display to your iDevice (iPad/iPhone/iPod Touch) allowing you to control your atv from far away, even with the TV turned off.
Among other features you will find:
Full keyboard support in 3rd party plugins (including in XBMC)
Global playback controls: skip songs without needing to first navigate to Now Playing.
Dedicated Now Playing button designed to take you straight to the Now Playing view (pressing the menu button brings you back where you were)
Easy restart and sleep.
Here are the installation instructions:
1. Jailbreak your Apple TV using greenpois0n or Seas0nPass.
2. Connect to your Apple TV using your preferred SSH client:
Host: apple-tv.local
Username: root
Password: alpine
Here's an example of how to connect to the Apple TV using Terminal.app on OS X:
ssh root@apple-tv.local
 Password: alpine
(Recommended SSH client for Windows: Pytty)
3. Once connected, run these 2 commands one by one (this will download, install/upgrade Remote HD plugin and restart the Apple TV interface)
wget https://remotehdcdn.appspot.com/Downloads/ATV2/remotehd-atv2_4.3.2_iphoneos-arm.deb;

 dpkg -i remotehd-atv2_4.3.2_iphoneos-arm.deb
Done! You can now use Remote HD to control your Apple TV 2. The app is on sale in the App Store for $3.99 (50% discount).
Update: Remote HD has just been updated to version 4.3.2
What's new
XBMC now available in RemoteView
Trackpad support added in CouchSurfer
RemoteView – Tap to Click support added in CouchSurfer
RemoteView – Tap to Click support added in AppleTV interface
Improvements and bugfixes
Text entry fixes
RemoteView refresh bug fixed
Play/Pause button fixed in XBMC