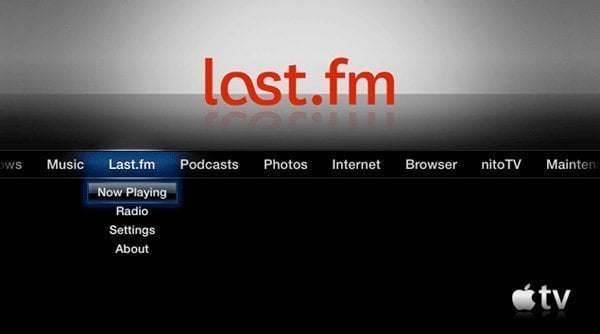 Remember that little shiny box called Apple TV buried deep in your closet since the announcement of the NEW Apple TV? You may now want to dig it back up: FireCore team didn't waste time wondering whether the new device will be hackable/jailbreakable or not and how and today released new update to their fantastic old atv enhancement – aTV Flash.
The 4.2 version brings Last.fm to your old Apple TV. "Last.fm for AppleTV is a new, rich, visually engaging way to experience your favorite music like never before.  It provides access to Last.fm radio, artist bios, artist slideshows and allows you to 'scrobble' plays (including plays from the built-in music player) back to your Last.fm account," FireCore said on their blog.
Current users with aTV Flash installed can updated to version 4.2 through the Maintenance –> Manage Plugins menu.  Once updated, Last.fm will appear as an option in the Manage Plugins menu.
Other aTV Flash 4.2 features and updates include:
Improved weather forecast layout and icons
Multiple performance improvements
Sapphire (8.0.5.2) – Improved metadata importing + bug fixes
nitoTV (0.9.5) – Improved DVD file playback + bug fixes
Maintenance (4.2) – Improved download/update process + Minor bug fixes
Other minor bug fixes
FireCore is giving away 50 Last.fm subscriptions. Check out their Twitter page for details.
And stay tuned, we will have a few aTV Flash licenses to give away soon!
Note: Current Last.fm radio streaming is only available to users in the US and UK.  A Last.fm subscription will be required to stream Last.fm radio.