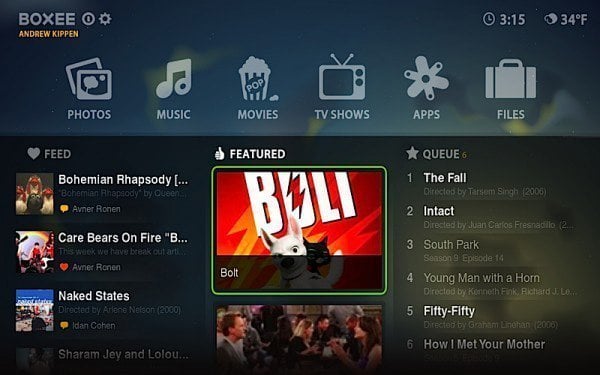 This Monday, at the Boxee Beta Unveiling event in Brooklyn, the Boxee hit beta status.  The Beta comes with completely re-designed home screen – the menu is now put front and center. Below you will find Feed (recommendations from friends on boxee, Facebook or Twitter), Featured (recommendations from Boxee's staff) and Queue (things we've saved for later).
The new additions – global menu – makes it easy to access helpful resources (Logout, Settings, Queue, Feed, History), the main menu (Photos, Music, Movies, Home, TV Shows, Apps, Files) and shortcuts to our favorite apps, TV shows or movies.
The Boxee sidebar has been extended to Music, Photos, and Apps.
Boxee overhauled Movies and TV shows to include both internet and local content. If you know what it is you want to watch, there is no need to go through an App now.
The Beta organizes TV shows by season and episode, and let's you filter by whether freely available or not.
Along with the Beta Bexee introduced three new Content Partners – Clicker (a TV Guide to the Web), The Escapist (a video game review site), and Suicide Girls (sexy nude photos & videos of tattooed girls).
Boxee team have also increased what people can do with Boxee Apps.  Developers can now use OAuth to give Boxee access to private resources meaning users can easily access their accounts across the web.
We can now not only watch video, but also start browsing websites that don't already have a Boxee App or RSS feed using a Boxee browser.
The Beta also brings official support for Snow Leopard and Ubuntu Karmic.
The graphical back-end has been switched from OpenGL to DirectX to take advantage of Direct X Video Acceleration.  Boxee has also worked closely with NVidia on their ION platform to offload video processing with DXVA and Flash 10.1.
Boxee Bata will be open up to the public at CES 2010, Jan 7th.