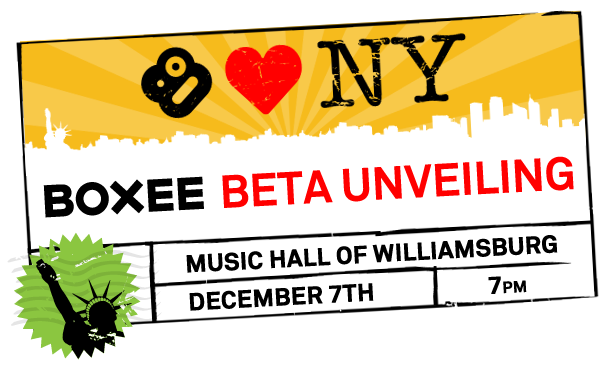 Boxee is having an unveiling event today at 7pm (ET) at the Music Hall of Williamsburg, NYC.  They will demo the new Beta, launch new applications from partners and start a 4-weeks early-access for users to test the Beta before they release it to the public at CES on Jan 7th. Boxee team say the Beta will look, feel and behave differently from the Alpha. It will feature new user interface, improved navigation, search TV Shows and Movies, a user controlled Queue, shortcuts and more.
There will be a live broadcast (by Livestream) on Boxee blog and via Boxee.
Three unveiling presenters – Missy Suicide of SuicideGirls.com, Jim Lanzone from Clicker.com and Tom Kurz from The Escapist, will be talking about their new Boxee apps for the event.
Boxee will be sending Beta invites to people attending the event, people who sign up for early access and over time to all existing alpha users.
In case you want to get your name on the early-access list you can fill this form.
Source: Boxee blog