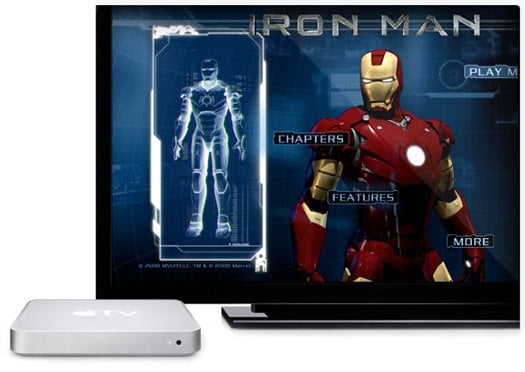 It took not more than a few days to get almost all the important hacks and plugins working in 3.0 update.
nitoTV
Released yesterday, 0.8.1 version (direct download) now supports 3.0 update.
nito says some features may have no chance of making it back in. Couchsurfer and RSS are not working, but they have restored the functionality for DVD, MPlayer, QuickTime, Weather, Network, download, installer and Application Launching sections.
Audio volume and sub toggling and resume returns in QuickTime playback! It is possible to turn off the volume control in General settings if this is not a desirable feature.
Guys warn things may be a little buggy from the OS transition.
Follow nitoTV thread at Hackint0sh.org
XBMC
Launcher 3.2 beta 1 (beta 2 is already on the way!) works with 3.0. However the new version is not ready for public use, and only people who are comfortable with the command line should install it.
Installing:
1) "patchstick" the 3.0 ATV
2) ssh into it and download Launcher-3.2.beta2-debug.run
3) install Launcher chmod +x Launcher.. ; ./Launcher-3.2…
4) install XBMC with Launcher or just re-symlink your old install (ln -s /Users/frontrow/Applications/XBMC.app /Applications/XBMC.app)
5) run XBCM
Boxee
Today XBMC guys made it possible to run Boxee on ATV 3.0.
That's how to do it:
1) "patchstick" the 3.0 ATV (You should just use your old patchstick you used previously on the ATV )
2) ssh into it the ATV and download 3.2 Launcher
Type:
wget https://dl.getdropbox.com/u/858897/XBMC/Launcher-3.2.beta2-debug.run
3) Install the Launcher
Type:
chmod +x Launcher-3.2.beta2-debug.run
Type :
./Launcher-3.2.beta2-debug.run
Enter the appropriate password "frontrow"  and answer "Y" when it asks to restart the finder.
4) From your ATV Menu> Launcher > Downloads, install Boxee alpha 0.9.14.6992.
Note: Please do not select the Launcher 3.1
5) Launch Boxee  from ATV Menu >Launcher >Boxee .
[via Boxee Support forum]
Others working in 3.0
Patchstick created with OS 2.1 (SSH enabled; accessing AppleTV with Cyberduck (sftp) works great)
Patchstick created with OS 3.0
QuickTime components
AppleFileShare Server (AFP) (working using afpinstall.sh and ATV-Recover image)
LaunchMore! 0.4 (with ATV firmware 3.0)
atvPWN (Not all of the plugins that can be installed through the latest atvPwn are actually compatible with 3.0)
Not working:
In case you needed to downgrade back to firmware version 2.4.
UPDATE:
aTV Flash 4.0 Released!
Highlights: 3.0 AppleTV compatibility, improved update process, VNC server + bug fixes.
UPDATE 2
Patchstick 3.0 Update 3.0 released.
ATV 3.0 support, MobileAir Mouse, Bit torrent incl. Web UI, Boxee, XBMC and more.
UPDATE 3
Sapphire Browser beta 7.6 now supports AppleTV 3.0