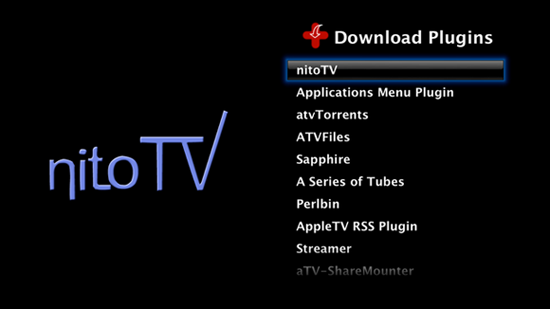 The latest NitoTV Take 2 version improves Gesture Support in MPlayer and DVD Playback, fixes various bugs and adds subtitle size toggle for MPlayer.
What's exactly new in 0.7.9?
· Fixed gesture issues in DVDPlayback and MPlayer playback. The "options" button in the remote app is mapped to "hold menu" for changing between keymaps in DVD and MPlayer playback.
· Fixed Smart Installer bug for DVDPlayback framework stub not being moved if update was preformed rather than a restore.
· Fixed one crash bug in adding suffixes, blacklist volumes or MPlayer arguments (there is still another elusive bug that casuses some crashes there).
· Fixed another file browsing crash bug.
· Added subtitle size toggle for MPlayer (only works to toggle between the default fonts installed with nitoTV, Arial-14 – Arial-24). As dafranca noticed on Hackint0sh.org forum  – "This will help many foreign speakers, because the default font size was Arial-14 (kind of very small), and to to changed it has required same knowledge on shell".
Find the 0.7.9 AppleTV version here
Follow the discussion about the latest NitoTV's releases at Hackint0sh.org
And in case if you have never had an opportunity to read this article:
nitoTV – one plugin to rule them all
Source and more at AwkwardTV.org