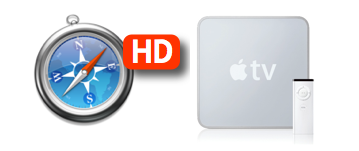 3 cheers for Brandon Holland! Safari HD is officially released. Now you can browse the web right on your big screen TV from the comfort of your couch.
Safari HD is available for both Apple TV 1.1 and 2.0. All you need is an ssh-enabled Apple TV. The installer script should take care of installing all the components for you. It's pretty straight-forward, really!
To use the 2.0 version, you first need to do a safe update from version 1.1 of the Apple TV software to 2.0. Currently, there is no way to directly patch the Apple TV via the PatchStick method once you have updated to 2.0. The instructions on how to do a safe update is available on AwkwardTV.org here.
The plugin also comes with a Bookmark file called Bookmarks.plist so you can add bookmarks for use with Safari HD.
For those that downloaded the files from our site before they were available officially (you know who you are), please download and install again. Brandon has since fixed the problems found in the 1.1 version of the software.
By the way, Brandon has put in a lot of time into this plugin. We encourage that if you find his software useful, please make donations to Brandon. It will only keep good quality software like this one coming.
Safari HD Installer for version 1.1
Safari HD Installer for version 2.0
Safari HD 1.1 core files
Let us know of your experience. We can't wait to hear from you.
A note to Brandon. Hey, maybe you can work on a visualizer next.
[Update] For those who have already installed Safari HD, send us some screen shots of it running on your Apple TV. We would like to share them with the other readers of the site. Send them to submission@appletvhacks.net .
Thanks in advance.
[Update 2] All links removed to comply with Apple's lawyers requests.