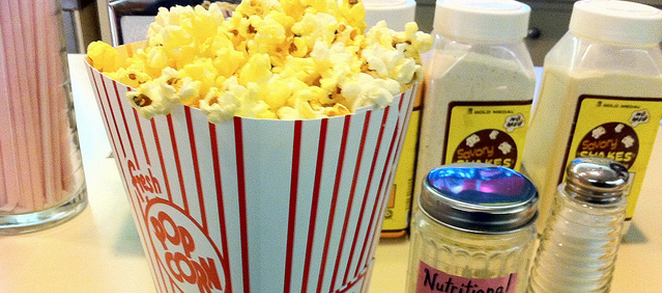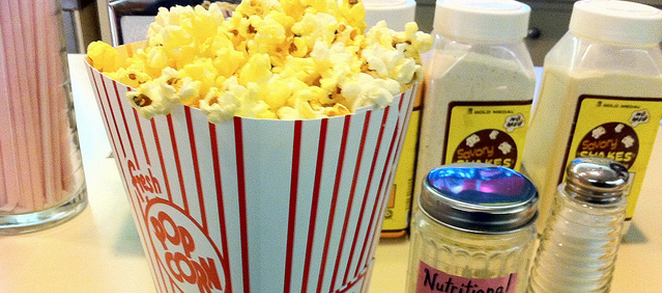 We're heading for summer's homestretch and the hits just keep on coming so let's get right to the hottest pix for your weekend viewing kicks.
NETFLIX:
An overlooked rom-com from none other than the Coen Brothers (Joel & Ethan), 2003's "Intolerable Cruelty" with George Clooney and Catherine Zeta-Jones somehow sank at the box office after its release but has resurfaced this week for your viewing pleasure. With Cedric the Entertainer, Geofrrey Rush and Billy Bob Thornton, this off-beat divorce rom-com truly has something for everyone and how often do we use "Coen Brothers" and "rom-com" in the same sentence?
And we're not sure if this one is a comedy, a horror/slasher or just Director Ronnie Yu's idea of fun but 1998's "Bride of Chucky" is here in all its goofy glory to entertain and delight you with its cheesy, kooky, so-damn-bad-it's-goodness! With Jennifer Tilly carrying all the acting water and if you need any other reason to watch a film then the promise of J-Till busting out of tight dresses then turn in your nerd card immediately.
TV Pick of the Week– "Steve Jobs: One Last Thing".  A fascinating documentary about the life, career and thoughts of one of the world's most interesting minds filmed before he left this world a much more interesting place than when he arrived.
Hulu Plus:
Let's go Old School Rock-n-Roll this week with one of the best and most controversial rock docs ever set to celluloid, 1970's "Gimme Shelter" from the Maysles Brothers.  A lovingly and revealingly filmed record of the Rolling Stones 1969 American Tour that captures all the musical madness the Stones created as they tore through the States which eventually ended in mayhem and murder at the Altamont Speedway.  A disorganized free concert plus drug-addled hippies plus the Hells Angels plus the Stones own particular brand of voodoo creates an eerily fascinating vortex that spells the End of an Era, vividly distilled on film and driven by the propulsive sound of the World's Most Dangerous Band.
If you're in the mood for something that tastes like true genius then check 1945's masterpiece by Director Roberto Rossellini, "Rome Open City", a portrait of human beings trapped in an inhuman situation as the Nazis occupy their beloved city and they try desperately to go on living.  Unforgettable.
TV Pick of the Week– "Star Trek: The Next Generation" (7 seasons, 176 episodes), is here for your sci-fi pleasure and gives you a chance to once again, boldly go where no man has gone before. Only this time with Patrick Stewart as Captain Picard in command of a retooled USS Enterprise.  80's television greatness!
iTunes:
The critically acclaimed 2013 drama, "Mud" with Mathew McConaughey, is available for streaming this week and MM fans will no doubt fall under the spell of this tale of damage and redemption featuring one of Hollywood's leading heartthrobs.
Also from 2013, a near-miss at the box office, Director Danny Boyle's latest, "Trance" is available to click on for a wild ride through the London Art scene.  It begins with the mind of a man trapped inside a crime inside a riddle wrapped in greedy gangsters and tricky therapists and ends…we're still not sure but we're sure you'll dig it. With James McEvoy, Vincent Cassel and Rosario Dawson as the ethically challenged therapist. That's right, we said Rosario Dawson and ethically challenged therapist.  And that means one thing my friends- NUDE SCENE!  You're welcome.
Speaking of Mr. McEvoy, one of 2011's absolute coolest thrill rides is also available this week with "X-Men: First Class" ready to give you the origin story you've been dreaming about and the one that you deserve.  Really one of the finest, sharpest, smartest and most passionate superhero flicks ever, "First Class", is an absolute must-see if you happened to miss it the first time around.  With Michael Fassbender as an utterly chilling and believable Magneto, Kevin Bacon as an almost surprisingly effective Bad Guy and also featuring the greatest superhero cameo of all time during the "mutant recruitment" montage.  BEST LINE EVER!
Album of the Week– I guess it's a Rolling Stones kind of August because "Hyde Park Live" just dropped with 19 classic live jams from good old days.  Enjoy!
That's all for this week so save us a seat on the couch…we'll bring the popcorn!