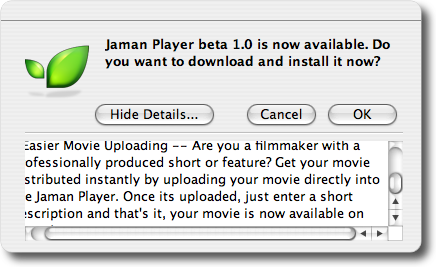 Jaman has released Beta 1.0 of its Jaman Player, which is used for playing rental movies from the service.
As expected, Apple TV syncing is now a standard feature. Previously, you had to download a special version of the player to get this. Along with that, the company has added the following:
Jaman Wish List – this allows you to queue up downloads and pay/rent when you are ready to watch.
Convenient Remote Download – this convenient feature lets you pick movies you want to watch from remote sites (work, in-law's, etc.) and have the movies be ready to watch once you get home.
Easier Movie Uploading – if you are a filmmaker and would like to distribute your movies via Jaman, you can use this to upload your movies directly to the service.
We are still waiting for the new features on the Jaman player plugin for the Apple TV ourselves. We'll let you know if we hear anything from the company.