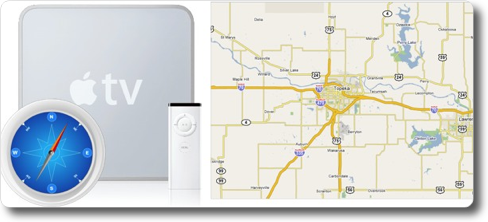 Brandon Holland has made available Road Trip, a GPS plugin for Apple TV.   This plugin was featured in our previous post on Brandon's mod to put his Apple TV in his car as an in-car entertainment system.
From Brandon's email:
"It is currently sitting at version 0.2 and I am hoping to finish it all off into a finished product very soon. At the moment, Road Trip has the ability to detect any serial devices connected to the system (gpses) and allows you to connect to it, read the status, speed, longitude, latitude, ect. It can also show your location on a map fetched via expedia.ca which uses the mapblast servers. It can then track your location in realtime on the map that it downloads. Road Trip automatically figures out whether your in Europe or North America and loads the correct map from expedia. Next feature on the list to get done is map caching and auto loading when the location tracker goes out of the maps lon, lat range. I'm hoping to get it done very soon so that map packs or trips can be cached for a trip."
Road Trip is currently in its very early stage of development.  If you have any suggestions, bug reports or donations, you can send it to Brandon at bholland@whatanutbar.com.
Thanks, Brandon.