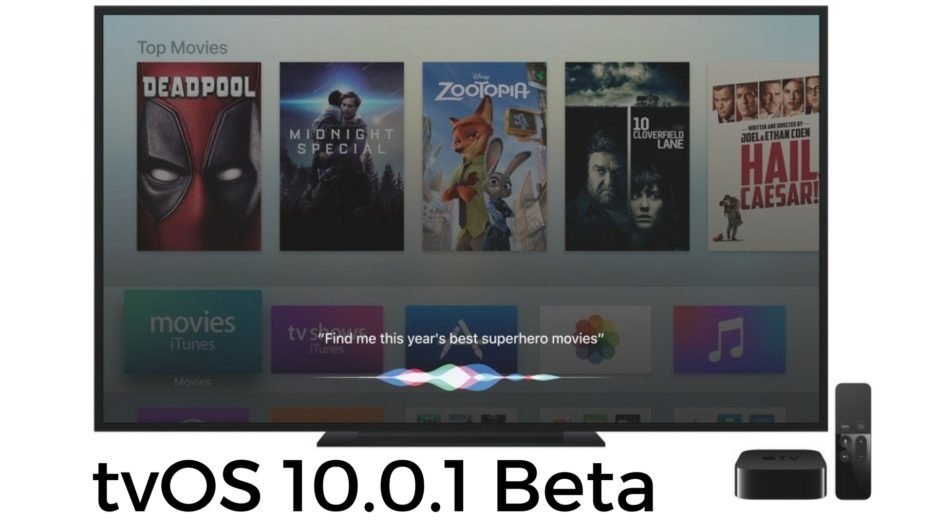 The latest beta software that's currently available for the 4th generation Apple TV is tvOS 10.0.1. Here's all you need to know about the tvOS 10.0.1 beta.
Apple released the first beta for iOS 10.0.1 on September 21st, and has released a total of four betas so far. The beta software is only available for registered Apple developers.
tvOS 10.0.1 Beta
The first beta of tvOS 10.0.1 didn't really bring anything new to the table. It was released only a week after the release of tvOS 10 to the public. The update is a minor one and is only supposed to fix issues with tvOS 10.
In the second beta release, which came two weeks after the first one, there's still nothing substantially new. You may notice some tweaks here and there, and little bit of lag at times. That's because this is beta software and is only meant for developers.
The single sign-on feature is still not available in the beta. The third beta was released just one week later. Once again, the update only features performance improvements and bug fixes.
Few days ago, Apple released tvOS 10.0.1 beta 4, and still, no sign of the single sign-on feature. If you're a developer, you should probably install the betas to test them out and give your feedback.
How to Install tvOS 10.0.1 Beta
To install a tvOS 10.0.1 beta on the fourth generation Apple TV, you will have to install the beta configuration file first. After that, you can choose to either get over the air updates, or do a new install every time a beta is out.
Either way, you will have to connect the Apple TV to your Mac using a USB Type C to USB A cable. Now, follow these steps to install the tvOS Configuration profile from Apple.
Go to developer.apple.com/download/ on your Mac and Login to your account.
Look for tvOS beta configuration profile and download it.
Head to the Mac App Store and install Apple Configurator.
With your Apple TV plugged in to the power, connect it to your Mac.
Now open Apple Configurator, select Add Profiles and select the downloaded configuration profile.
Reboot your Apple TV after the install is complete.
You will now be able to download the latest software updates over the air by navigating to System>Software Updates in Settings app. This is the simplest method to install the latest beta software wirelessly.
Remember, you cannot backup your Apple TV, so if you choose to use the iTunes method, it will be erased completely. Also, you'll have to plugin the device to the Mac every time.
We will update this article when newer betas are available. Stay tuned. If you find anything new in the latest beta, do let us know in the comments section.