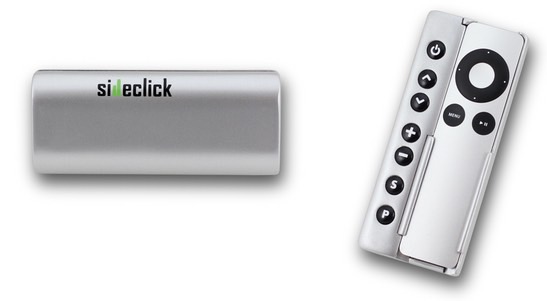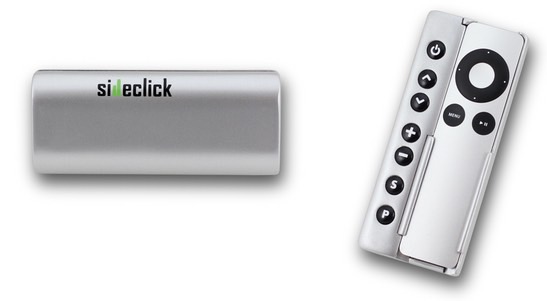 Apple TV users often find themselves switching between the Apple TV remote and the televion remote. Changing the volume and source on the television requires the TV remote while the normal navigation of content of course requires the silver Apple TV remote. For media buffs, this turns out to be much annoying and we have always longed for a solution. Sideclick aims to be one.
Sideclick is a new Kickstarter campaign which aims to streamline the process of cord-cutting by unifying the controller. It is a simple attachment to your Apple TV Remote which carries a few buttons of its own. You can pair it with the television or speaker system or any device in your house, as long as it uses infrared technology.
Sideclick is a universal remote attachment that snaps onto your streaming remote, allowing you to control the basic functions of your TV: Power, Volume Up and Down, Channel Up and Down, and Source/Input.
Sideclick eliminates the need to always be looking for "that other remote" and allows you to control your TV and your streaming device all-in-one.
Also read: How to use any third party remote as your Apple TV Remote.
The Sideclick Kickstarter campaign is live now and has already collected more than $100k. They need your help to make the campaign a success and bring Sideclick to the market. The best bid right now is the basic Apppe TV Sideclick with free worldwide shipping, available for a pledge of $30.
So if you think Sideclick will make your life a lot simpler, go here to contribute.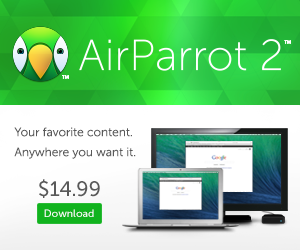 Be sure to follow Apple TV Hacks on Twitter, Facebook or Google+ for all the latest Apple TV-related news.