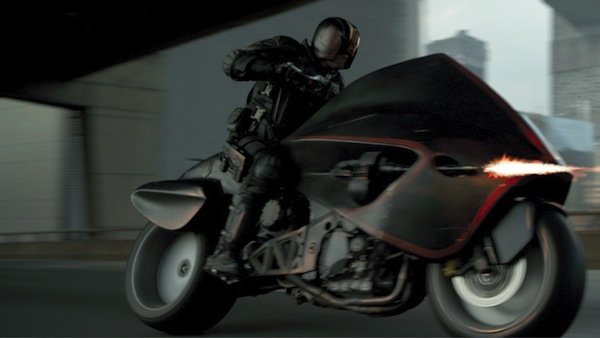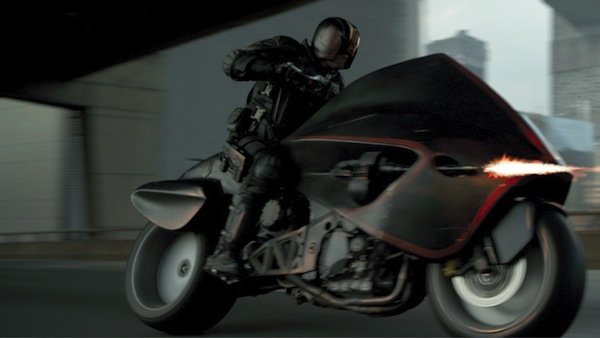 We're heading into those rowdy, raucous, end-of-summer holidays at full speed and we know you've got big plans but if you find yourself with some unexpected downtime in between the action then here are this week's pix picks that are guaranteed to ring your bell!
This week we're going all-out action, all the way, starting off with the mostly ignored and underappreciated, gone-from-the-theaters-before-you-could-blink-your-eyes, 2012 crime thriller, "Dredd", an update/upgrade of the previously ludicrous 1995 version of the same character. This time around Director Pete Travis has trimmed the fat and delivered a lean, mean, fighting machine of an action flick with most of the very straight story (Judge D and Rookie arrest/execute drug dealers in a vast housing complex and then have to fight their way out) taking place inside an awesomely rendered, mammoth ghetto of a complex. Karl Urban provides the scowls as Judge Dredd, the lovely Olivia Thirlby scores with soul as the Rookie and Lena Headley menaces as a scarred crime lord with a thirst for vengeance.  WARNING: Although this film is based on the popular graphic novel characters IT IS NOT SUITABLE FOR CHILDREN!  Catch the first 5 minutes and, trust us, you'll see what we mean. And from there it is pedal-to-the-metal, shoot-'em-up, non-stop action to the end!
Next up is Director Timor Bekmambetov's 2006 bold, bloody and excellent take on the undead genre, "Day Watch". Vampires and shape shifters and Moscow…OH MY!  This action/horror entry will be sure to knock the Twilight right out of anybody. And this is only the opening chapter of the tale…
Last but certainly not least we have Director Pierre Morell's exuberant 2004 crime/thriller/kung-Fu/free running  spectacular, "District 13", for your viewing pleasure and this one will indeed be a pleasure.  Inspired no doubt by the suburban Paris rioting of the 2000's this go-for-broke mashup throws everything at you with frenetic energy and mad fun. And if you are a fan of Parkour then brother you are in a for a treat as Cyrill Raffaelli and David Belle take off running from the jump and don't stop until the credits roll.  There's drugs, armies of thugs that need ass-whuppings, an evil crime boss, even eviler bureaucrats, a captive girl, a nuclear device and everybody scrambling to stay on top of it all. This one is a big BLAST!
One For The Kids– Treat yourself to a 100 minute babysitting break and let the adolescents enjoy themselves as they gets mesmerized once again by the superfun, supercool, superslick  2012 sequel, "Spy Kids 2: The Island of Lost Dreams" by director Robert Rodriguez. With Carla Gugino, Antonio Banderas and a huge cast of veteran actors having a great time in this clever "G"-rated adventure your own wanna-be spies will too as their mini-heroes fight to figure out how to save their family and then the world, pretty much in that order.
And for a much different type of kid…check the 2010 doc, "Comic-Con Episode 4: A Fan's Hope", and witness a world most adults never do.  Yes, the ultimate nerdy fanboys (and girls) land en masse on San Diego to get their geek on and live out their fantasy worlds in this real one.  As Spock himself might say- Fascinating!
Here's a much different but no less involving oddball documentary, Director Errol Morris' quirky, brilliant, "Gates of Heaven". What starts off as a straightforward examination of the somewhat strange business of pet cemeteries turns into a disarmingly deep meditation on the nature of life and death as seen through the eyes of pet owners and the beloved family members who have passed on into eternity.  A deeply moving film with a perfect sense of gravity.
2013's "Drinking Buddies" is available for download with Jake Johnson, Ron Livingston, the wickedly sultry Olivia Wilde and the luminous Anna Kendrick as matched/mismatched singles who are looking for love in the mostly right places. An adult romp that will have you thinking as well as laughing.  And we'd pay money just to see this cast read the phonebook anyway.
Well boys and girls, it's here so why not give it a look?  Yes, everybody's favorite pick in the game of celebrity death watch, former child star and current tabloid teaser Lindsay Lohan stars in the Paul Schrader directed, Bret Easton Ellis penned, "The Canyons".  With popular porn star James Deen opposite Ms. Lohan in this erotic thriller about dissolute Los Angelinos going nowhere fast you can only expect the unexpected.  So just enjoy the trainwreck and we'd also advise that Lilo may want to keep Mr. Deen's number for future work reference.
One for the Kids– 2010's DreamWorks Animation, "Megamind" is available this week with voice work from heavy comedy hitters Will Ferrel, Tina Fey and Jonah Hill as well as Brad Pitt more than holding his own.  The Young 'uns will definitely get a kick out of this script flipped supervillian tale that is full of fun for adults too so go ahead and make this one a family affair!
That's all for this week so save us a seat and we'll let you hold on to the remote!