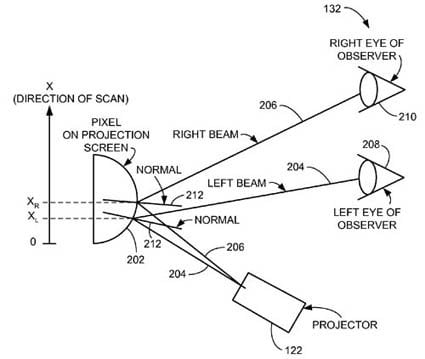 This week in "Apple TV News from the Web":
Apple to build 3D TV system
Apps coming to Apple TV
Adobe AIR 3 games for iOS
The Pear TV
Apple TV Hacks Store
We are open for submissions: if you find anything related to Apple TV and you think it may fit here, send us a tweet or a Facebook comment and we'll post it the coming week.
—————-
1. Apple to build 3D TV system
Ben Kunz from Thought Gadgets predicts that Apple will soon get in the television business and build a 3D TV system. The trigger for his prediction was a patent that Apple won last year: the company wants to use Microsoft Kinect-type movement tracking to determine where the eyes of every person watching the TV in the same room are and then project separate beams of light to both of each user's eyes making it possible for every person in the room to experience 3D without glasses. Kunz even thinks that thanks to this "truly holographic experience" plane travel could become a thing of the past!
Thought Gadgets:  Apple to build a hologram
2. Apps coming to the Apple TV
We all know that one of the next big things for Apple will be apps for the Apple TV. Developer Michael Gile predicts that "Apple TV will be the most successful game console in history." He took the stage at 360iDev in Denver and showed off the code he's already gotten running on the Apple TV and demoed an  app that let him to load up and play media assets. Gile also revealed that he's working on porting Wolfenstein 3D and Quake over to the Apple TV's system and announced that he'll be releasing a version of the cocos2D iOS development platform that will also work with the Apple TV. Be ready for apps!
TUAW: 360iDev: Getting ready for apps on the Apple TV
3. Adobe AIR 3 games for iOS
It looks like Gile and other developers will soon have another option for making apps for iOS. Adobe has announced version 3 of its AIR software that is said to allow game publishers to deliver console-quality 2D and 3D games to any device running on iOS. Adobe promises that with AIR 3 developers will be able to deliver a "new class of gaming, premium video experiences, as well as sophisticated, data-driven applications" across devices, including the iPhone and iPad.
AppleInsider: Adobe promises 'console quality' games on iPhone, iPad with cross-platform AIR 3
4. The Pear TV
Our Facebook fan Steve has found and shared with us on our page that on the show iCarly, instead of using "Apple", they use "Pear", as in Pear Phone and Pear Pad. He posted a photo of his TV screen on which we can see the characters watching… the "Pear TV". You can see it here.
5. Apple TV Hacks Store
We have a new section in Apple TV Hacks – our merchandising store! Join our Facebook page and tell us what is your favorite item in the store and we will make a draw among the participants in two weeks. Make your choice for a chance to win the item you like most!

You may also want to read:
Watch HD Movie Trailers on Apple TV 2
Apple TV News from the Web: Edition 3
Installing and Configuring a FTP Server in Your Apple TV 1st Generation