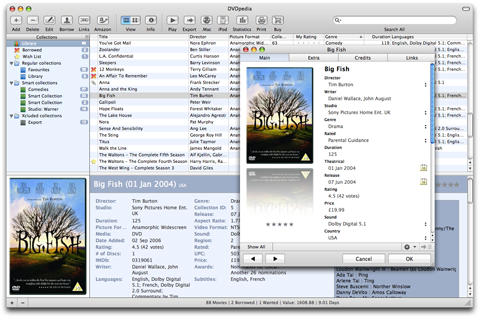 Thanks to PARA9 it's now possible to browse DVDpedia movie catalog on Apple TV. This small Montréal based team, specializing in web and Mac OS X development, released DVDpedia plugin for Front Row that now also supports Apple TV 2.4 (and only this version).
The plugin is offered as a free download.
To install it on Apple TV you need to enable at least SSH and AFP (if your device isn't hacked yet) – find the instructions here. Then just copy the plugin from the Front Row library to Apple TV, make your DVDpedia database accessible from Apple TV, reboot the device and then make DVDpedia desktop application open the database at the new location.
The plugin enables to browse movies by Title, Director, Actor, Genre, Year, Country or Recently Added. You will also get a little info for each entry selected. And if you have a movie linked to the entry, you can start playing it right there in Front Row.
For more details and download links go to PARA9 website.