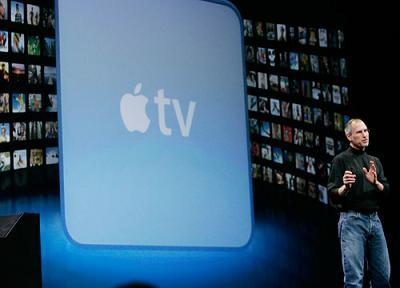 Dear Mr. Jobs,
Thank you for releasing the long-waited Apple TV back in March of this year. We think it's a wonderful device and a great addition to the home theater setup.
With the Apple TV's easy-to-use interface and simplified remote, we can now watch our favorite movies and TV shows we've downloaded from the iTunes Store on our 52″ plasma screen. We can listen to our music collection via our souped-up home theater instead of having it come out from our PC speakers. We can share our vacation photos with our friends in the living room instead of having them crammed in front of the computer. And lastly, we can also enjoy those funny YouTube videos from our couch without going back to the computer.
As wonderful as it is, Apple TV is a closed system. Without hacking it, there is no way to add new features to this one-of-a-kind device. Just a simple feature like supporting new file format requires a hack that probably makes casual users cringe at the thought of trying it out.
Yes, there is a large community of "hackers" that helps with adding features to your closed-up Apple TV. It is not that we are hackers by the classic definition. We don't try to get into people's bank accounts, hack into the DOD computer systems, nor do we like to be known as "hackers". We do it because we see the vast potential of this device. With no support from Apple, we do not have other ways; we are forced to be known as "hackers."
Your current favorite iProduct, the iPhone, has a development kit and the number of applications for it is growing daily. Though limited, the development kit for the iPhone allows for applications to use its native services making easy to expand on the phone's functionality.
There also exists a Widget development kit, which allows Dashboard Widgets to be created with ease. That kit alone enables the widget application base to grow to 3100+ widgets strong.
The developers who develop on these kits are still known as "developers." We, on the other hand, are known as "hackers." All this just because of our love for the Apple TV.
As for the Apple TV community, we get NOTHING. No development kit to add new functionality like the iPhone. No accessories like the ever-popular iPod, unless you call those Apple TV "skins" accessories.
Frankly, we are frustrated.
Here is our plea to you, Mr. Jobs. Please open up the Apple TV.
Just imagine what it can do. By having a development kit, we can easily add new features to the Apple TV without risking to void the warranty. Want to support a new file format? Boom, a plugin for that. A new arcade game? Boom, a game plugin for that. Want to surf the web? Boom, a Safari-like plugin for that too. Oh how wonderful it is to be surfing the web on a 52″ plasma TV.
And if there is hardware development kit, think of the hundreds of manufacturers who would be eager to develop new accessories for it. A DVD drive? Boom. An AV box? Boom. A hard drive for extra storage? Boom. You already have a "made for iPod" certification program. Why not have one for the Apple TV too?
Yes, there will be a lot of "BOOMS" in the Apple TV Land only if there is a development kit for it.
You mentioned that Apple TV is a "hobby" to you. So why not let it be our hobby to legitimately develop for it too.
Eagerly waiting for your reply.
Sincerely,
The AppleTVHacks.net team