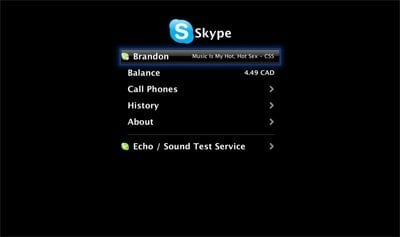 O, Brandon Holland, how we "heart" you.
Yep, the Canadian teen that brought us the wireless keyboard hack and the GPS plugin is at it again. This time he's bringing us a Skype plugin for the Apple TV.
You may have seen our post on getting Skype for OS X to run on the Apple TV using Application Loader. However, the one that Brandon is working on is going to be a plugin native to the Apple TV.
Here is his email to us:
Hey Apple TV Hacks, I have started developing a Skype Plugin that will utilize the Skype API and make the user able to make calls and send text messages to anyone on there Skype contact list. As far as calls go, I think a standard usb headset or usb phone will work. Text messages will most likely be entered using the remote and the standard text entering method. No release yet, but I will release a beta as soon as it is able to make calls. Huzzah!
Huzzah to you too, Brandon. Thanks for all your contributions, Brandon. We look forward to seeing that plugin. Anymore plugins from you and we'll have to start a Brandon Holland fan club.
Oh, come to think of it, you might want to wait until the software update first though. I have the feeling that the new update will not play well with your Skype plugin (or any other plugin for the matter).