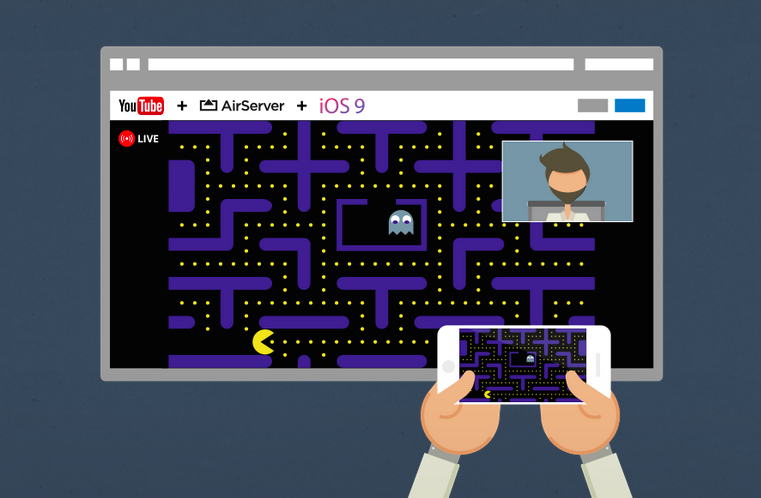 AirServer, one of the most advanced AirPlay receivers for Mac and PC, has been updated with YouTube Live Streaming feature, retina quality mirroring, Ultra HD video recording and full compatibility with iOS 9 and OS X El Capitan.
According to the developers, Apple's new AirPlay protocol in iOS 9 let them create a "much improved version of AirServer" with new and powerful features.
New features include:
Live streaming to YouTube Live: gamers can now stream their favorite iOS games in real-time and add personal commentary using a webcam and a microphone. Teachers can use this technology to spread their knowledge beyond the classroom.
Retina quality mirroring brings drastically improved picture quality to AirServer. An iPhone 6 Plus can now mirror at full 1080 x 1920 resolution, which delivers over three times the previous pixel count in portrait mode.
Ultra-high quality recording lets you create professional videos of your mirroring sessions in the best quality possible.
Encrypted AirPlay protects your personal photos and videos as they are transmitted over the network. This important security feature is only offered by AirServer and the Apple TV.
OS X El Capitan's new AirPlay features are fully supported by AirServer. You can now stream your favorite videos directly from Safari via AirPlay.
AirPlay from the YouTube iOS app is once again supported by AirServer for Mac. This feature is exclusive to AirServer and the Apple TV.
AirServer 6 for Mac and AirServer 4 for PC are available now and are offered as a free update for all existing users.
See AirServer in action:
Be sure to follow Apple TV Hacks on Twitter, Facebook or Google+ for all the latest Apple TV-related news.