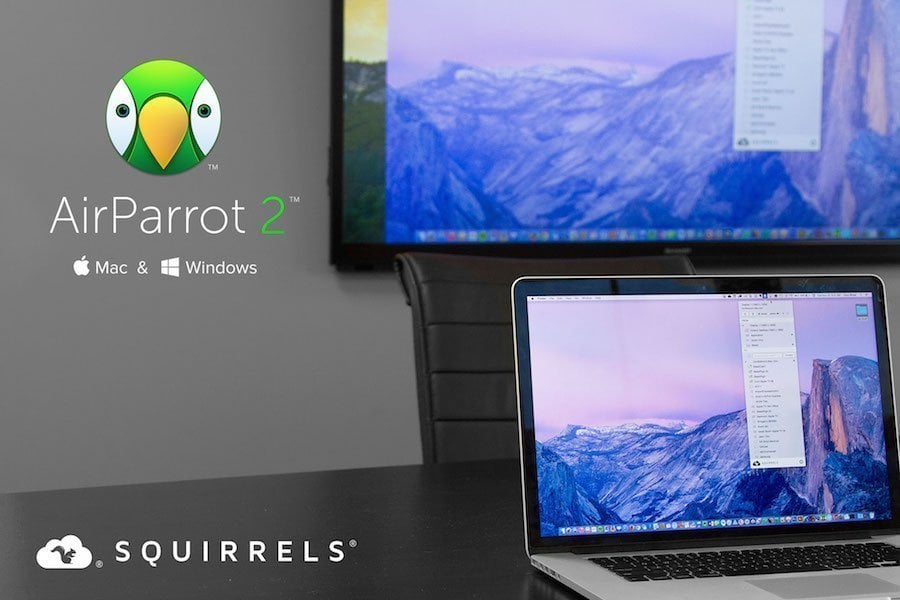 Squirrels, the company behind the popular AirParrot, Reflector and Slingshot apps, has just released AirParrot 2, the long awaited sequel to AirParrot. This upgrade is available for Mac and Windows, and it introduces major new features along with "drastically" improved performance.
AirParrot 2 highlights:
The ability to stream video files adds an entirely new element to the formerly mirroring-only application. Users can now drag and drop their favorite movies, TV shows and other media files to begin streaming. When available, home theater users will enjoy 5.1 channel audio.
AirParrot 2 allows mirroring and streaming of audio only, too. It can now send audio files or audio from open applications to available receivers. Audio even plays in sync when sending to multiple receivers.
Streaming media is available to Chromecast, AirPlay-enabled speakers and traditional AirPlay receivers like Apple TV and Reflector.
Multiple destination support
AirParrot 2 allows streaming and mirroring to more than one destination at the same time: Apple TV, AirPlay speakers, Chromecast – all at once. It works for both video and audio-only streaming.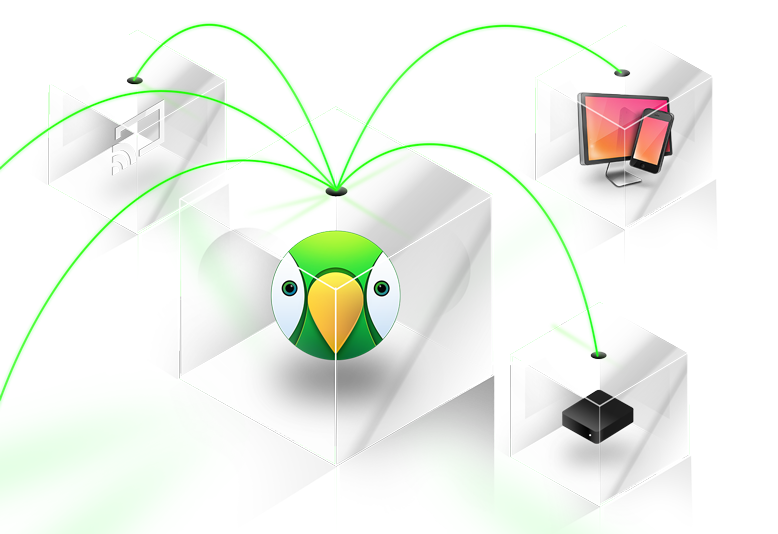 AirParrot 2 is the first application to enable screen mirroring from a Mac or Windows computer to a Chromecast receiver.
Bluetooth discovery/IP Connection/Quick Connect 
AirParrot 2 adds easier ways to connect to AirPlay receivers and Chromecast. Bluetooth discovery and patent-pending Quick Connect technology allow connections over complex and limited networks.
Apple TV 3 supports discovery via Bluetooth. Squirrels added support for this and it allows connections across subnets. It's important to note that the Apple TV doesn't support connections over Bluetooth, only discovery. It's extremely handy for networks not supporting Bonjour and mDNS.
Squirrels has also included their new Quick Connect tech that allows for easy connections between AirParrot and sister software Reflector. That same Quick Connect box also allows connecting directly to an IP on the internal network. It's a built-in fallback for devices that can't use BT discovery or mDNS.
When streaming, AirParrot now supports the use of hardware remotes.
AirParrot 2 includes an entirely new UI. Additions like a recently connected device list and new status bar are believed to "improve the overall experience and make wirelessly displaying content easy."
AirParrot 2 is a paid upgrade. Original AirParrot users can upgrade at a discount through 11/26/2014 using the code AP2UPGRADE. New users can purchase AirParrot 2 for $14.99 from the Squirrels website.
We are already working on a review of a new version of AirParrot. Meanwhile, you can read our in-depth review of the previous version.
Be sure to follow Apple TV Hacks on Twitter, Facebook or Google+ for all the latest Apple TV-related news.