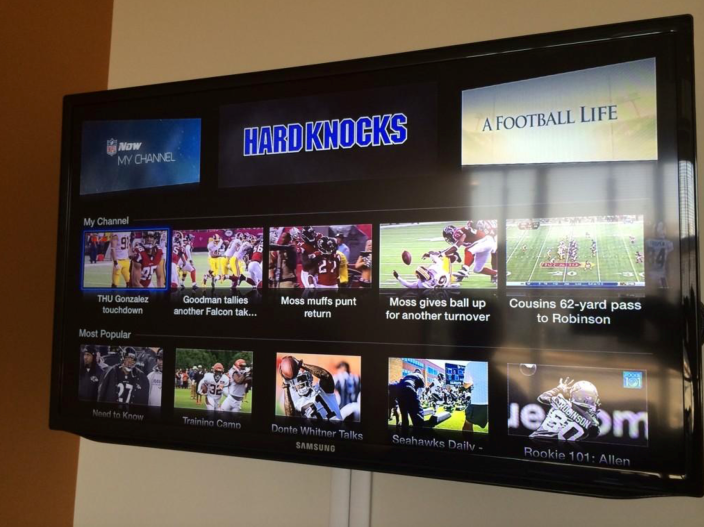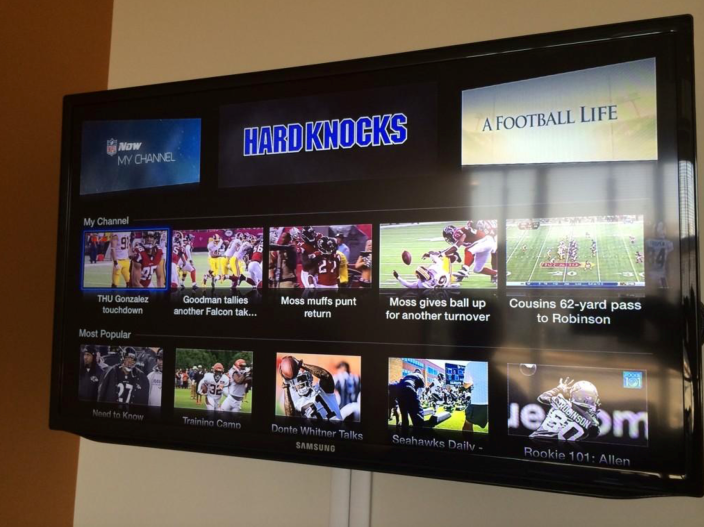 Apple TV is getting overwhelmed with new channels. It's hardly been a week since the FX Now and CNBC apps made it into Apple TV, when new rumors have emerged on the imminent launch of the NFL Now channel. The above picture was taken by an NFL employee and shows the channel in testing on an Apple TV.
The NFL Now service was launched earlier this year to bring a personalized library of on-demand news, features, highlights, live streaming of press conferences and other events, and more. It was announced that the service will be available on the web and on mobile devices, but this is the first time we are hearing about a dedicated Apple TV channel.
Here's what the channel has to offer.

– Original Content Created for NFL Now: From the NFL Media studios in Los Angeles, NFL Now will create original content — news updates, shows, features, and more — designed specifically for digital platforms.

– Highlights of NFL Action:NFL Now will have extensive highlights of the best plays from NFL games, including a premium instant highlights service during the game window. Subscribers will be able to follow along with the action so they never miss a big play by their favorite team or fantasy players. After games end, relive the highlights from every game.

– Content Produced by NFL Clubs: Each of the NFL clubs is constantly producing content for their team-specific platforms from practice updates to locker room interviews and players features. The NFL Now stream provides a next-generation platform to deliver this team content to fans.

– NFL Films Content: With more than 100 million feet of film in its library and more than 110 Emmy Awards, NFL Films programming, including America's Game, The Top 100, and the two-time Emmy-nominated series "A Football Life," will be part of NFL Now.

– NFL.com & NFL Network Content: NFL Now will utilize select NFL.com and NFL Network video content to augment each fan's NFL Now content stream.

– Live Events, Press Conferences, and Shows: From league and team press conferences, to the Pro Football Hall of Fame induction weekend and the yearly release of the NFL schedule, NFL Now will share important moments from across the NFL calendar.
The channel is expected to be released this month, even as early as next week, to be in time for this year's 2014-2015 NFL season. Apart from Apple TV, the corresponding apps will also be available on iOS and other streaming devices like Roku. However the channel may not be your best option to enjoy football because it won't be broadcasting live matches! Yeah, DirecTV has told that the Sunday Ticket will not make into the NFL Now service, at least for this season!
Be sure to follow Apple TV Hacks on Twitter, Facebook or Google+ for all the latest Apple TV-related news.