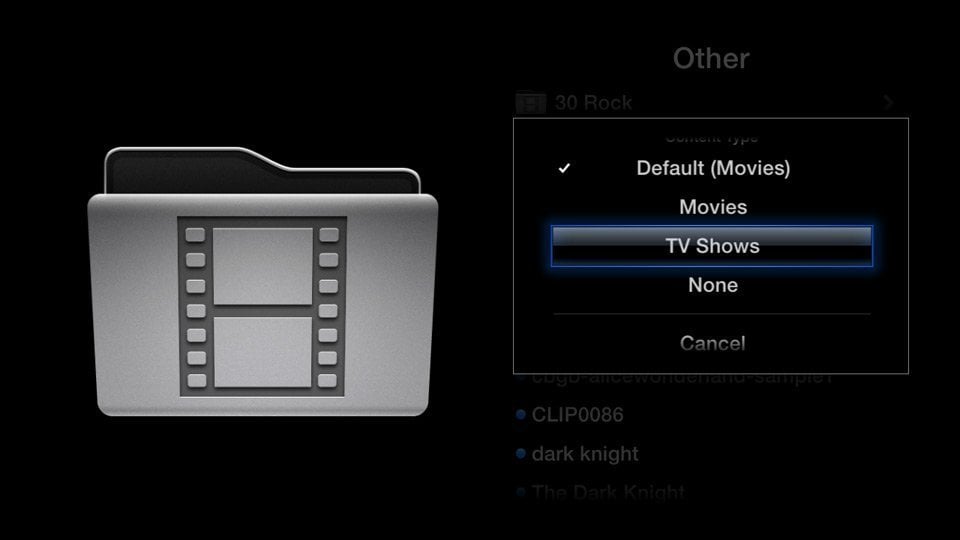 A freshly baked version of Media Player for Apple TV 2 has been released by Firecore. Version 0.9.4 adds new folder artwork in Grid View, loop and shuffle playlist options, support for large photo collections and comes with a bunch of improvements and bug fixes.
What's new in version 0.9.4?
Added new folder artwork in Grid View
Added loop and shuffle playlist options
Added TV Show series cover art in Grid View and Top Shelf
Added top to bottom and right to left navigation in grid view
Added global setting for enabling/disabling subtitles
Added support for large photo collections
Added support for folders containing dot ('.') in their name
Added (watched) view options in List View (use Play/Pause button to switch mode)
Improved metadata caching logic
Improved TV Show filename parsing
Improved Grid View stability
Improved metadata fetching speed
Resolved issues with audio file metadata fetching
Resolved issues with chapter selection screen layout observed on short files
Resolved issues with metadata reloading in Grid View
Resolved issues with TV Shows aired date
Resolved issues with hangs on certain DVD menus
Resolved minor memory management issues
Resolved issues with scrolling in Top Shelf
Resolved issues with folder names overlapping in Grid View
Minor UI improvements
Media Player 0.9.4 can be installed on your ATV2 (with aTV Flash black already installed) through the Maintenance –> Manage Extras menu.

You may also want to read:
aTV Flash 4.4 for original Apple TV now available
aTV Flash (black) RC1 for Apple TV 2 Now Available
How to Jailbreak Apple TV 2 on iOS 5 (Apple TV 4.4) Using Seas0nPass – Tethered