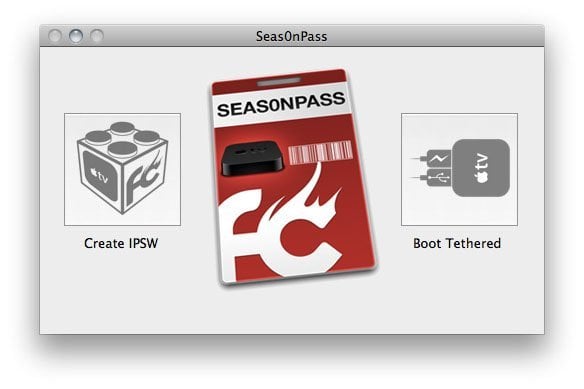 Firecore has just updated Seas0nPass to support a TETHERED jailbreak of the new Apple TV 4.4 (iOS 5) software (also supported is the 4.4.1 update). A tethered jailbreak means every time there is a need to reboot your Apple TV, you will have to connect it to a computer. The new Seas0nPas doesn't support XBMC, Plex, Remote HD and Rowmote plugins yet, so think twice before deciding to upgrade to 4.4 and run the jailbreak.
If the support for Media Player, Couch Surfer, NitoTV, Last.fm, Weather, RSS Feeds and Overflow and the new Apple TV 4.4 features, like AirPlay Mirroring, Photo Stream, NHL and WSJ Live are enough to convince you to update, you can then jailbreak your atv following these steps:
Download version 4.4 (9A334v) or 4.4.1 (9A335a) and save the IPSW in an easy to find location.
Download the latest version of Seas0nPass.
Open Seas0nPass then Option + click (Mac) or Shift + click (PC) the Create IPSW button and select the new IPSW file that was downloaded in step #1.
 Seas0nPass will complete the jailbreak and restore process automatically.
After the restore is complete, move the AppleTV to your TV and follow the steps for performing a tethered boot:
Using Seas0nPass for a 'tethered boot'
After jailbreaking your Apple TV with Seas0nPass your device requires a tethered boot. This means it must be connected to a computer for a brief moment during startup.
Note: The Apple TV MUST be disconnected from the computer (for at least a brief moment) after restoring in iTunes for the tethered boot process below to work properly.
Step 1: Open Seas0nPass and select the 'Boot Tethered' option.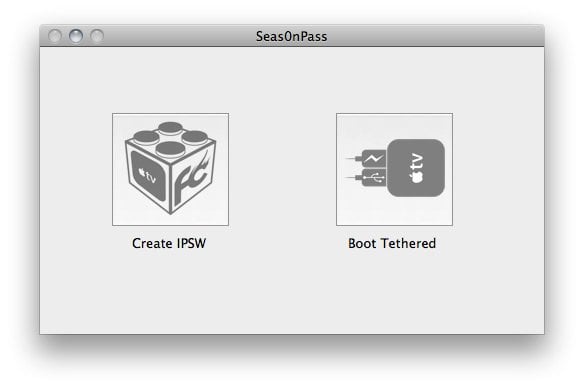 Step 2: When prompted, connect the AppleTV to your computer via USB. Wait for the rapid flashing light then connect the power. Once both are connected hold both the 'MENU' and 'PLAY/PAUSE' buttons for 7 seven seconds.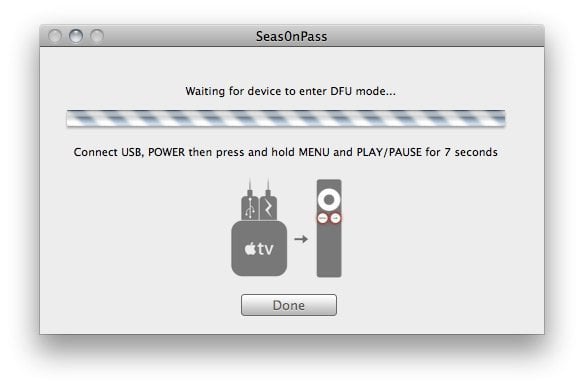 Step 3: Seas0n Pass will complete the tethered boot automatically. Once complete, remove the USB cable and connect the HDMI cable.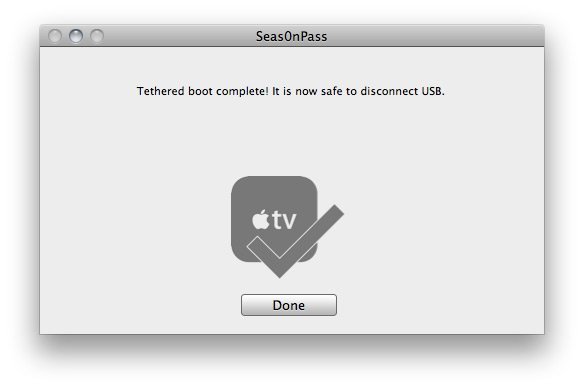 Done!

You may also want to read:
Apple TV 2 Software Update 4.4.1 – Released and Pulled
Apple TV 4.4 Software Released
How to Watch Hulu on Apple TV 2