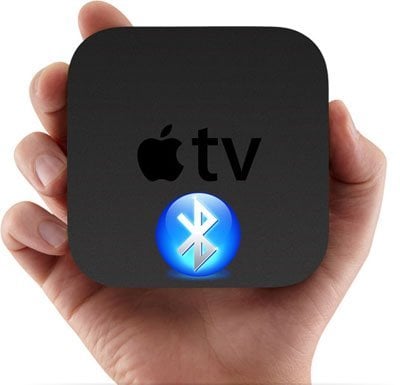 Mark Gurman and Sonny Dickson at 9to5Mac found that Apple has included hidden bluetooth support in their second-generation Apple TV. Bluetooth support is not present within the current Apple TV OS, but the device does currently ship with a Wi-Fi/Bluetooth chip installed and, according to 9to5Mac, Apple's next major operating system, iOS 5, will turn on this bluetooth support.
Gurman's guess is that Apple is positioning this bluetooth support mainly for keyboards (this could mean the company is working on Safari for ATV2) but perhaps this would also make it possible to hook up your iPhone, iPad or iPod touch (having more controllers would make bringing games and apps to Apple TV simpler).
According to 9to5Mac, users will be able to activate the device's built-in bluetooth support via the standard settings menu. A standard pairing menu will then appear and users will need to connect with a provided passcode.
Apple is also rumored to launch a faster Apple TV this fall with their dual-core A5 processor and 1080P video playback support.
You may also want to read:
aTV Flash (black) Beta6 for Apple TV 2 Now Available
Real Racing 2 HD First to Support Wireless Gaming over AirPlay on Apple TV 2
AirPlay-Enabled Apps: Web Browser, Camera and Videos for Apple TV, TVOut Genie! (review)