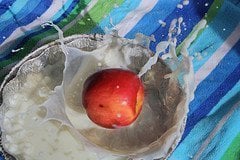 Welcome to the second edition of Apple TV News from the Web! In this issue we have a mix of Apple design history and present, mixed with more Jobs' related news. After all, it's only a week after his resignation. In case you missed, you can read the first issue here.
We are open for submissions: if you find anything related to Apple TV and you think it may fit here, send us a tweet or a Facebook comment and we'll post it the coming week.
---
Edition 2:
1. The Apple Logo
2. Kicking in, Steve Jobs
3. The Mighty Jonathan
4. Pricing, Pricing
5. Cool!
---