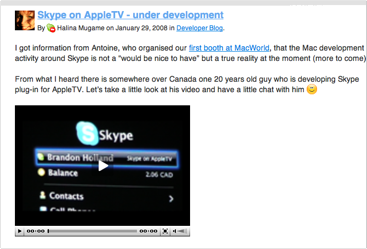 In an interview with Skype's Halina Mugame, Brandon Holland, the developer of the upcoming Skype plugin for the Apple TV, mentioned that he will release his long-awaited plugin to the public today (February 1st, 2008).
Some of us have already caught a glimpse of the upcoming plugin in action when he published a video of it on his web site.  We just can't wait.
One minor complaint about Brandon's interview with Skype.  At the end of the interview, he thanked Awkward TV, Alan Quatermain and God, which we are all in favor.  But what about us, Brandon?  We're the one promoting your work everywhere for you.
Just kidding, Brandon.  Anyway, all of us are looking forward to your plugin.